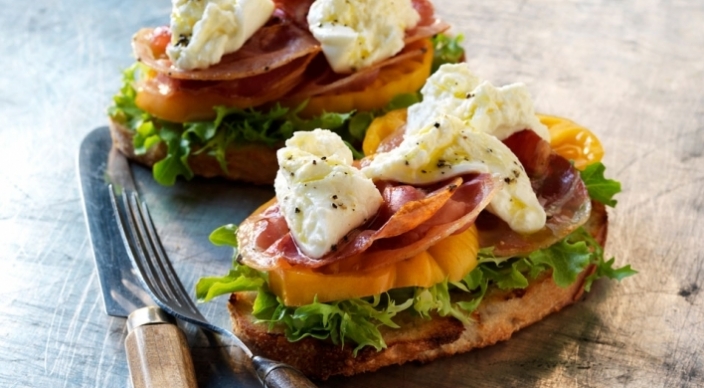 Serves: 4 // Prep time: 20 minutes | Grilling time: about 1 minute, plus 4 to 8 minutes per batch for the pancetta | Special equipment: large cast-iron griddle or skillet
Ingredients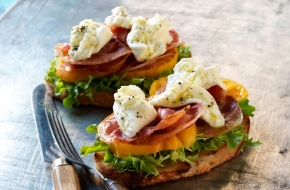 4 tablespoons extra-virgin olive oil, divided
8 slices sturdy wheat, sourdough, or country white artisan bread
2 teaspoons white balsamic vinegar
¼ teaspoon kosher salt
¼ teaspoon ground black pepper
8 ounces thinly sliced pancetta
2 cups loosely packed mixed baby greens
4 medium heirloom tomatoes, cut crosswise into slices
1 ball (8 ounces) burrata cheese
Instructions
Prepare the grill for direct cooking over medium heat (350° to 450°F).

Using 2 tablespoons of the oil, brush one side of each slice of bread.

In a medium bowl whisk the vinegar with the remaining 2 tablespoons oil and season with the salt and pepper. Set aside.

Brush the cooking grates clean. Grill the bread, oiled side down, over direct medium heat until lightly toasted and grill marks appear, about 1 minute (do not turn). Remove from the grill.

Place the griddle on the cooking grate over two burners. Close the lid and let the griddle preheat for 2 to 3 minutes. Arrange the pancetta slices on the griddle in a single layer (you may need to cook the pancetta in batches). Cook the pancetta over direct medium heat until it is browned and crisp, 4 to 8 minutes, turning once or twice, checking frequently so that it doesn't burn. (Later batches will cook more quickly.) Transfer the pancetta to a sheet pan lined with paper towels.

Put two bread slices, toasted side up, on each of four plates. Add the mixed greens to the medium bowl with the vinaigrette and toss to coat. Divide the greens equally among the eight slices of bread. Top with tomato slices, pancetta, and cheese, dividing them equally. Drizzle any remaining vinaigrette from the bowl over the sandwiches. Serve warm.