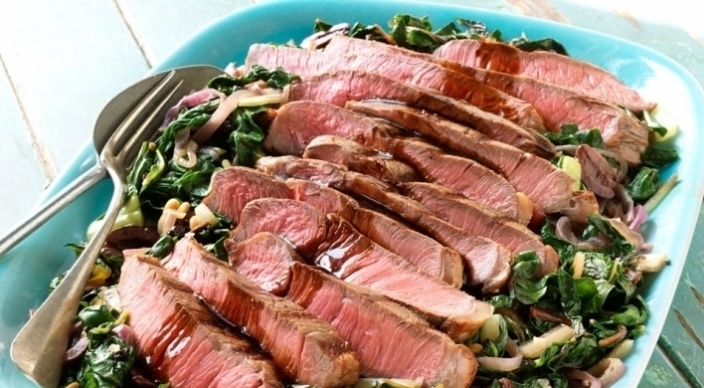 Serves: 4 // Prep time: 30 minutes | Grilling time: 6 to 8 minutes
Ingredients
Glaze
¾ cup good-quality balsamic vinegar
2½–3 teaspoons golden brown sugar
¼ cup (½ stick) unsalted butter
Kosher salt
Freshly ground black pepper
---
2 top sirloin steaks, each about 1 pound and ¾ to 1 inch thick
2 bunches Swiss chard, about 1½ pounds total
4 tablespoons extra-virgin olive oil, divided
1 large red onion, halved and thinly sliced
4 large garlic cloves, minced
¾ cup dried currants
¾ cup kalamata olives, each cut in half
½ cup pine nuts, toasted
Instructions
To make the glaze: In a small saucepan over high heat, bring the vinegar to a boil. Boil until reduced to 3 tablespoons, 3 to 4 minutes, stirring occasionally. Remove the saucepan from the heat and stir in 2½ teaspoons of the brown sugar. Stir in the butter until melted. Season with a pinch of salt and pepper. (If a sweeter glaze is desired, stir in the remaining ½ teaspoon brown sugar.) 

Prepare the grill for direct cooking over high heat (450° to 550°F). 

Let the steaks stand at room temperature for 15 to 30 minutes before grilling. 

Remove and discard the thick center ribs from the chard. Cut the leaves in half lengthwise and then crosswise into ¾- to 1-inch strips.

In a large skillet over medium-high heat, warm 2 tablespoons of the oil. Add the onion and sauté until it begins to soften, 5 to 6 minutes. Add the garlic and cook for 30 seconds, stirring constantly. Stir in the chard by large handfuls and toss with tongs until wilted and almost tender but still bright green, 4 to 5 minutes. Stir in the currants and olives and sauté for 2 minutes more. Season with ¼ teaspoon pepper and salt, if desired (the olives may provide enough salt). Stir in the pine nuts. Keep warm.

Brush the cooking grates clean. Pat the steaks dry with paper towels. Brush the steaks on both sides with the remaining 2 tablespoons of oil. Season evenly with ¾ teaspoon salt and ¾ teaspoon pepper. Grill the steaks over direct high heat, with the lid closed, until cooked to your desired doneness, 6 to 8 minutes for medium rare, turning once or twice. Remove from the grill and let rest for 3 to 5 minutes.

Cut the steaks across the grain into slices. Serve with the chard and the warm balsamic glaze (reheating it, if necessary) drizzled over the steak slices.