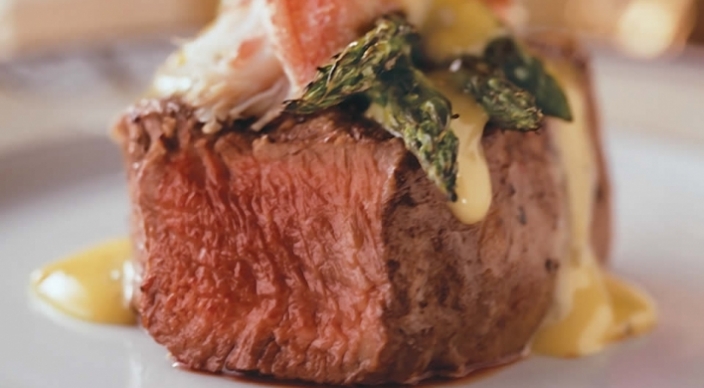 Serves: 4 // Prep time: 30 minutes | Grilling time: 11 to 13 minutes
Ingredients
½ pound asparagus, tough ends removed
2 teaspoons extra-virgin olive oil
⅛ teaspoon kosher salt
⅛ teaspoon freshly ground black pepper
Rub
1 teaspoon kosher salt
1 teaspoon ground pink peppercorns
1 teaspoon freshly ground black pepper
---
4 filets mignons, each about 8 ounces and 1½ inches thick, trimmed of excess fat
Extra-virgin olive oil
Sauce
⅓ cup white wine vinegar
1 tablespoon water
1 tablespoon finely chopped shallot
1 tablespoon finely chopped fresh tarragon leaves
¼ teaspoon kosher salt
⅛ teaspoon freshly ground black pepper
2 egg yolks
½ cup (1 stick) unsalted butter, melted
---
2 king crab legs, precooked (thawed, if frozen)
Instructions
Lightly coat the asparagus with the oil and season evenly with the salt and pepper.

In a small bowl mix the rub ingredients. Lightly brush both sides of the filets with oil and season evenly with the rub. Allow the filets to stand at room temperature for 15 to 30 minutes before grilling.

Prepare the grill for direct cooking over medium heat (350° to 450°F). 

In a small saucepan combine the vinegar, water, shallot, tarragon, salt, and pepper. Bring to a simmer over medium heat and continue cooking until the mixture is reduced to 3 tablespoons. Remove from the heat and allow to cool for a few minutes.

In a small bowl whisk the egg yolks and then whisk in 1 tablespoon of the vinegar mixture. Pour the egg mixture into the saucepan with the vinegar mixture and whisk until smooth. Place the pan over low heat and whisk the mixture constantly until it thickens to the consistency of mustard. Then immediately start drizzling the melted butter in a thin stream into the pan, whisking constantly, until the mixture reaches the consistency of thin mayonnaise. If at any time the sauce looks like it is separating, remove the pan from the heat and continue whisking to cool it down. Set the sauce aside at room temperature.

Brush the cooking grates clean. Grill the filets over direct medium heat, with the lid closed as much as possible, until cooked to your desired doneness, 11 to 13 minutes for medium rare, turning once or twice (if flare-ups occur, move the filets temporarily over indirect heat). At the same time, grill the asparagus and crab legs over direct medium heat until the asparagus is crisp-tender and the crab is heated through, 6 to 8 minutes, turning once or twice.

Remove everything from the grill and let the filets rest for 3 to 5 minutes. Cut the asparagus into 2-inch lengths and keep warm. Crack open the crab legs with a mallet or cut them open with kitchen shears and remove the meat.

To serve, place one filet on each plate and top with some of the asparagus and crabmeat. Drizzle béarnaise sauce over the top.