Serves: 4 // Prep time: 20 minutes | Grilling time: 10 to 14 minutes
Ingredients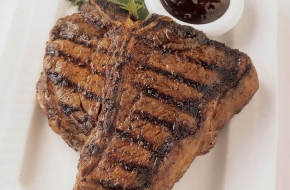 Rub
2 teaspoons whole black peppercorns
2 teaspoons mustard seed
2 teaspoons paprika
1 teaspoon granulated garlic
1 teaspoon kosher salt
1 teaspoon packed golden brown sugar
¼ teaspoon ground cayenne pepper
---
2 porterhouse steaks, each about 1¾ pounds and 1½ inches thick, trimmed of excess fat
Extra-virgin olive oil
Sauce
½ cup ketchup
½ cup water
2 tablespoons steak sauce
2 tablespoons molasses
2 teaspoons Worcestershire sauce
2 teaspoons Dijon mustard
1 teaspoon granulated garlic
½ teaspoon freshly ground black pepper
Instructions
Crush the peppercorns and mustard seed in a spice mill. Pour into a small bowl and combine with the remaining rub ingredients.

Lightly brush both sides of each steak with oil and season evenly with the rub. Allow to stand at room temperature for 15 to 30 minutes before grilling.

Prepare the grill for direct and indirect cooking over high heat (450°to 550°F).

In a small saucepan whisk the sauce ingredients. Simmer over low heat for about 5 minutes.

Brush the cooking grates clean. Sear the steaks over direct high heat for 6 to 8 minutes, turning once. Continue grilling over indirect high heat until cooked to your desired doneness, 4 to 6 minutes more for medium rare, turning once or twice. Keep the lid closed as much as possible during grilling. Remove the steaks from the grill and let rest for 3 to 5 minutes.

Cut the steaks across the grain into ¼-inch slices and serve warm with the sauce.