the

Ingredients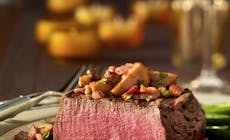 Special Equipment
Weber Connect Smart Grilling Hub
Instructions
Coat the steaks with oil on both sides, and season them well with salt and pepper. Let the steak sit at room temperature for 15 to 30 minutes before grilling.

Prepare the grill for direct grilling at high temperature (230°C to 290°C) and medium temperature (180°C to 230°C) and heat a perforated grill pan to medium temperature.

In a skillet over medium-high heat on the stove, sauté the bacon and onion until the bacon is crisp, 6 to 8 minutes, stirring occasionally. Remove from heat source.

Combine the ingredients for the vinaigrette sauce and mix with a whisk until smooth. Place the mushrooms in a medium-sized bowl and add 60 milliliters of the vinaigrette sauce. Mix well. Save the remaining vinaigrette sauce.

Clean the grill grates with a brush. Cook steaks, covered, over direct high heat until cooked to desired doneness, 8 to 10 minutes for medium rare, turning once or twice. Remove them from the grill and let them stand for 3 to 5 minutes.

While the steaks are cooking, arrange the mushrooms in a single layer on the grill pan and cook, covered, over direct medium heat for 6 to 8 minutes, until golden brown and tender, turning once or twice. Do not remove the mushrooms from the heat until they have darkened nicely on the underside. Move the mushrooms to the pan along with the bacon and onion and heat them over medium heat for about 1 minute, stirring often. Add the chives and mix well. Serve the steaks warm, topped with mushroom sauce. Whisk the remaining vinaigrette sauce with a whisk and, if desired, apply it to each steak.
All of our recipes are created by our expert chefs at the Weber Grill Academy. View more inspirational recipes or book a course at the Grill Academy now.

What do you need?
Recommended Tools
What do you need?
Recommended Tools
Weber Connect Smart Grilling Hub
More

recipes
You May Also Like
More

recipes
You May Also Like