the

Ingredients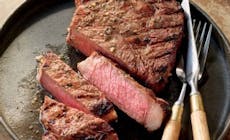 Instructions
In the kitchen:

Strip the leaves from the thyme sprigs and reserve the sprigs for tossing on the coals later. Finely chop enough of the leaves to give you 2 tbsp of chopped thyme. Mix the thyme leaves in small bowl with the remaining paste ingredients, including 1 tsp of salt and ¼ tsp of pepper.

Brush the paste evenly over both sides of the steaks. Cover and refrigerate for 2-4 hours.

Remove the steaks from the refrigerator and season evenly with ½ tsp salt and ¼ tsp of pepper. Leave the steaks to stand at room temperature for 15-30 minutes before cooking.

At the barbecue:

Prepare a two-zone fire for high heat (230 - 290°C)

Brush the cooking grate clean. Drain and add the Weber Firespice Wood Chips and thyme sprigs to the charcoal and put the lid on the barbecue. When smoke appears, grill (direct method) the steaks with the lid closed as much as possible and turning once or twice, until cooked to your desired doneness, 6-8 minutes for medium rare, keeping the lid firmly closed. Remove from the barbecue and leave to rest 3-5 minutes. Serve warm.

Serving Suggestions

What better with a rib-eye steak than the classic pairing with French frites! Find suggestions for more sides that you can prepare on your barbecue, within our recipes section.
All of our recipes are created by our expert chefs at the Weber Grill Academy. View more inspirational recipes or book a course at the Grill Academy now.

More

recipes
You May Also Like
More

recipes
You May Also Like