the

Ingredients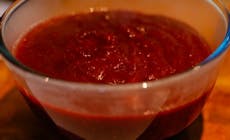 Instructions
Give your cranberry sauce a kick with a good glug of Jack Daniel's.
Place a heavy based pan over a medium direct heat. 
Add the butter, cranberries, onion and 4 tbsp water. Simmer all the ingredients for 10 minutes, until the onions and fruit are soft.
Add in the brown sugar, whiskey, cayenne pepper, vinegar and black treacle. Then reduce for 20-30 minutes, until the sauce is thick, dark and sticky. 
Remove from the heat and blitz with a hand blender or in a food processor.
Allow the sauce to fully cool before serving as this wiill allow the flavours to fully develop and the consistency to thicken. 
Serve with whole roast turkey or grilled turkey breast steaks.
All of our recipes are created by our expert chefs at the Weber Grill Academy. View more inspirational recipes or book a course at the Grill Academy now.

More

recipes
You May Also Like
More

recipes
You May Also Like