the

Ingredients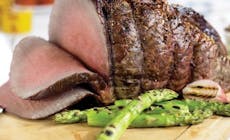 Instructions
In the kitchen:

Place all of the rub ingredients into a Weber Spice Grinder. Shake and then grind the rub ingredients all over the beef joint.

Cover and leave the beef joint to come up to room temperature.

At the barbecue:

Roast using the 50/50 method, covering half of the charcoal grate with coals.

Use the area with direct heat to seal the meat for 5 minutes on both sides. Transfer the meat to the area of in-direct heat and leave to roast for approximately 1 hour or until the core of the meat reaches 64°C.

Leave to rest before serving.

Tip: Try roasting sweet potato or squash underneath the beef.

About this recipe:
All of our recipes are created by our expert chefs at the Weber Grill Academy. View more inspirational recipes or book a course at the Grill Academy now.

What do you need?
Recommended Tools
What do you need?
Recommended Tools
Premium Digital Thermometer
More

recipes
You May Also Like
More

recipes
You May Also Like