Tips & Simple Camping Recipes


for Barbecuing on the Go
Enjoying the great outdoors is the perfect way to escape city life and reconnect with nature. But when hunger strikes, it pays to be prepared. Discover top tips for grilling on the go as well some of the best camping recipes that are both effortless and exceptionally tasty.
Choosing the
Right

Barbecue for

You
Choosing the right barbecue for your adventure depends on a few factors like:

How many people you'll be feeding.
How much space you have to transport your BBQ.
What style of camping you'll be doing – motorhome, tenting, roadtrip
Smaller groups and families without a caravan or motorhome, need something portable like a Smokey Joe, which is both a compact and practical charcoal barbecue. If you don't have access to electricity, then a gas barbecue is the perfect choice.

Built for most gas barbecues
Learn More
Gas Barbecue Benefits
Convenient – super-fast to pre-heat, so you're ready to cook in around 10 to 15 minutes. Perfect for quickly satisfying hungry hikers after a trek.
Easy to clean – Clean cooking grates using a grill brush and wipe the outside of your barbecue with a cleaning cloth and specialised cleaner.
Durable – gas BBQs are made to withstand the elements, and have a long lifespan.
Tasty tip: Add extra smoky or wood flavours to your gas barbecue, using the Weber gas barbecue smoker box and smoker chips.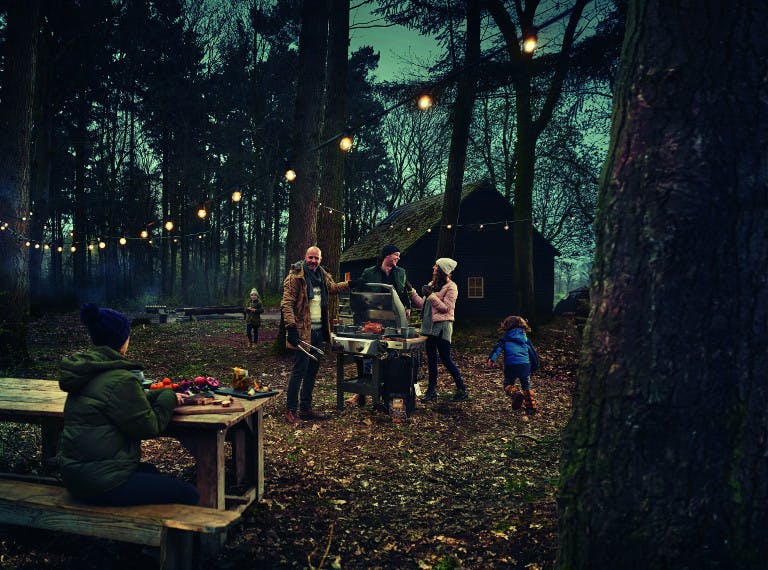 A gas barbecue is perfect for scenic outdoor grilling
Mobile Barbecue Tips for Smaller Groups
The compact Q Series of gas BBQs are perfect for small to medium groups. These durable barbecues come in a range of sizes and are built to withstand the elements - perfect for the great outdoors. Choose from many portable styles of BBQ, suitable for any style of camping trip.
Barbecuing on the Go with a Motorhome
If you have a motorhome or caravan with an electric supply, the world really is your oyster. More spacious motorhomes allow you to take a larger BBQ with all the frills. Whether you choose a barbecue fueled by wood pellets, gas, charcoal and electric, you have ample options to meet your specific needs and it is largely down to personal preference.
6 Easy Camping Recipes
for Breakfast, Lunch and Dinner
When camping, you want food that's easy to prepare, nutritious and provides lots of energy. These packed-full-of-power recipes are the energetic boost you need for hiking, biking and whatever else the great outdoors offers.
Tasty tip: The key to great barbecuing lies in the prep. Prepare your sauces and marinades in advance, then store them in a sealable container.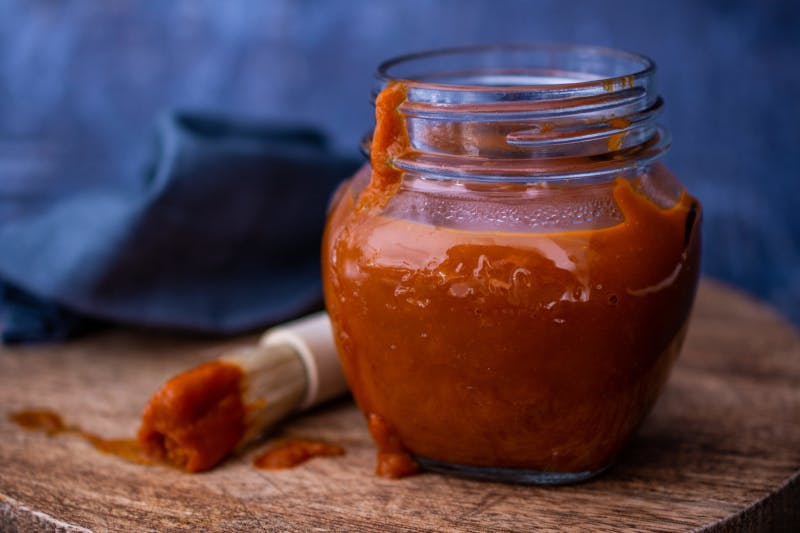 Easy to seal and store: sauce in a jar
1. Chicken Sandwich with Olive Tapenade and Brie
This simple chicken sandwich recipe is high in protein and the perfect way to kick-start your energy. It can also be prepared before you leave and stored in a sealable container until it's time to cook.
2. Halibut with Grill-roasted Lemon
Simple but tasty, this easy halibut camping recipe is the perfect lunchtime meal. This versatile recipe also works well with trout, salmon or perch.
3. Marinated Chicken Skewers
This chicken skewer recipe is great because you can prepare the marinade beforehand. Simply pack up the chicken soaked in the marinade, and when it's time to eat, add the flavour-soaked chicken to a skewer, then grill. Fresh salad and your preferred vegetable side dish make the perfect meal.
4. Beef Fillet Steaks with Mushrooms and Red Wine Vinaigrette
After all that outdoor activity, you've earned a hearty dinner. This steak recipe requires a little prep, but can be done before you leave.
5. Black Bean Cheeseburger With Avocado
This veggie cheeseburger recipe is also packed with protein and tastes divine. You can prep the burgers in advance and store them in a sealed container until you're ready to go. They're the ultimate treat after a day of working up an appetite in nature.
6. Portobello Mushroom Filled With Pesto and Goats Cheese
This portobello mushroom recipe is a great snack for any time of day. Prepare the mushrooms before you hit the road, and throw them on the grill later. For an extra kick, add some bacon and rocket salad.
Happy camping.
Easy Camping Recipes for Breakfast, Lunch and Dinner