Barbecue


on-the-go

with Weber
Camping is a wonderful way to reconnect with nature. Leaving behind the hustle and bustle of everyday life, as you sleep under the stars and wake to the relaxing sounds of a nearby stream winding its way peacefully through the idyllic countryside. The crackle of a wood fire, the cool dewy morning grass on your bare feet all infusing a sense of serenity towards this simpler way of life.
Of course, if like me, you have children you can forget all that rubbish - the only real way to survive a family camping trip is meticulous planning, rigorous organisation and a well-stocked beer chiller (with a good lock, of course).
When it comes to camping success, food is one of the most important aspects. Not only does it provide sustenance for an activity-packed day, but it influences how you enjoy the down-time as you gather to cook and eat together. When I camped as a youngster, I would take great pride in cooking large cuts of meat in wild and elaborate ways over wood fires. There was a lot of trial and error, and often, although spectacular, my culinary creation would be cooking long into the night, meaning we'd eat well past midnight. Fine by me, I'd had provided! Not so fine by the several pairs of hungry eyes staring pleadingly back at me.
I've learnt my lesson, now when I camp with family, and especially with children the wood fire is for warmth and I opt for a more reliable way of cooking, something that will enable me to serve up lots of different foods and in a timely manner!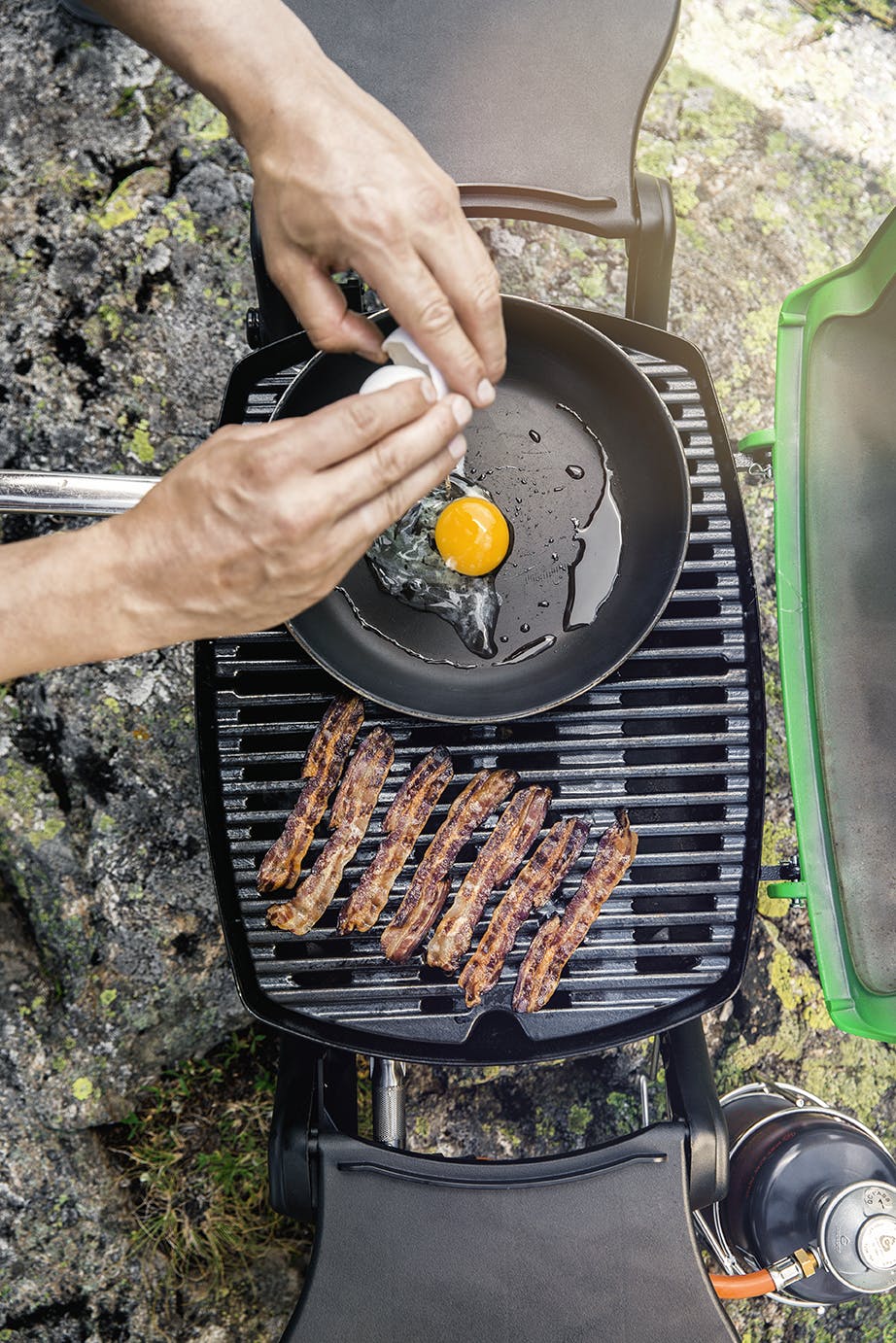 My trusty Q1200 comes on every camping trip, and serves up breakfast, lunch and dinner with astounding efficiency. It's a great size to fit in the boot of your car and the small gas canisters last for days (although it's always worth remembering to take a spare or two for long trips).
Breakfast will usually consist of toast, bacon, eggs and perhaps a little black pudding (after all, when camping there's no shame in having a full english every morning), while for lunch I tend to go for something a little lighter - maybe marinated grilled chicken, fish or steak- ideal for wraps, sandwiches and pittas. Preparing a marinade might seem like a hassle when you in the outdoors - my top tip here is to prep before you leave, pop the meat and marinade in tupperware box, into the cool box and when you're ready to cook, straight onto the grill.
When it comes to dinner, one of my favourite things to cook is a small roast leg of lamb. Coated in a fragrant blend of Moroccan-style spices, (pre-mixed at home), I use a roasting rack and shield to lift the meat from the hot cooking grates so it doesn't burn, and always have a thermometer on-hand check it's cooked through. While it's cooking I take time to relax and wind down into the evening, then later as the meat rests I'll grill a few peppers, courgettes and aubergine pieces to serve with the lamb.
If you're short on space, the secret to creating great food hasse-free can be the kit you take with you. Aside from the barbecue my essential accessories are BBQ gloves, an instant read thermometer, compact tool set, t-brush, griddle (for fried eggs!), skewers and the roasting rack and shield. These accessories are relatively small, easy to pack and take up little space while also enabling me to create a varied menu.
Although my camping trips have changed over the years, I still find them a fantastic away to spend time reconnecting with family and friends, and made easier and more enjoyable with the right tools for the job.