Meatless and Delicious:

Which Vegetarian and Vegan Burger Recipes Should You Try Next?
There seem to be new meatless alternatives for your BBQ available every day. Whether it's a trendy meat substitute or simply whole vegetables, there are a million ways to liven up your barbecues– all while keeping your vegan and vegetarian guests happy, too!
What are the

most popular types
of meatless burgers?
There are two main groups of meatless substitutes for grilling: vegetarian and vegan options. The key difference is that vegetarian burgers can include dairy and other ingredients that might not fit with a completely vegan diet. Vegan burgers, on the other hand, are usually entirely plant-based.
Veggie burgers ideas you'll love
While vegan and vegetarian burgers can be quite similar, vegetarian burgers often use classic patty ingredients like breadcrumbs and eggs as binding agents.
Halloumi burgers: Rather than use a meat patty, a slice of halloumi cheese is grilled, drizzled with lemon, and takes the place of the traditional hamburger patty, with all the trimmings.
Black beans: Beans are a great source of protein, have great flavour, and hold the patty structure well. Check out this recipe for a black bean patty that even includes tortilla chips.
Beetroot burgers: This option is closer to the classic veggie burger patty. By simply blending 1 raw shredded beetroot with a handful of chickpeas, then rolling it in egg and breadcrumbs, you can create a patty that is healthy and flavoursome!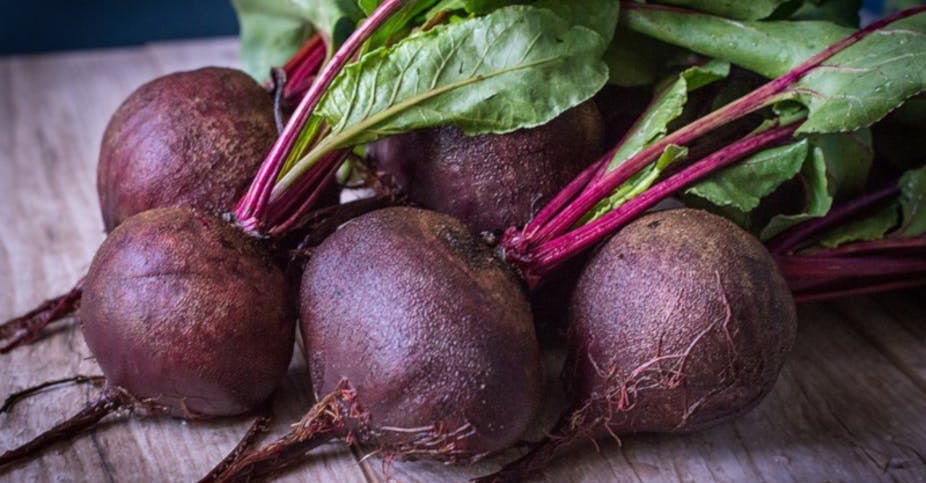 Beetroot is a great basis for vegetarian and vegan burgers
Your new favourite
vegan burgers
Vegan options are an inclusive and incredibly tasty option! You can either go for a prepared vegetable protein like tofu or tempeh, or even try a whole cooked vegetable instead. Here are our favourite vegan options:
Portobello mushroom burger: As one of the bigger mushrooms available, the portobello is a great stand-in for the traditional patty. Grilled simply with a little olive oil and herbs, this simple idea is a great source of flavour and makes for a satisfying substitute. Red lentils: Lentils are budget friendly and blend well into a patty shape. Try this recipe for a tasty take on the lentil burger (just replace the Greek yoghurt with a soy plain yoghurt).
Tofu burgers: Tofu takes on flavours well and is so easy to grill. That's why it's the perfect vegan-friendly option for a bbq. Try a slice of firm tofu and pair it with a satay sauce for an exciting update on the classic burger.
Choose the right patty
for you!
Vegan and meatless burgers have come a long way since the classic potato-based patty. Now you can enjoy protein-rich versions that are made from tempeh, chickpeas, and even seitan. As they are high in protein and low in saturated fat and cholesterol, these alternative burger options are both healthy and filling – not to mention easy to barbecue!

For something that will soak up spices and flavour, try seitan and tempeh with a peanut satay sauce and even a dash of chilli. If you want something to match classic burger elements like lettuce, cheese, and tomato, a chickpea, beetroot, or sweet-potato patty is the best choice.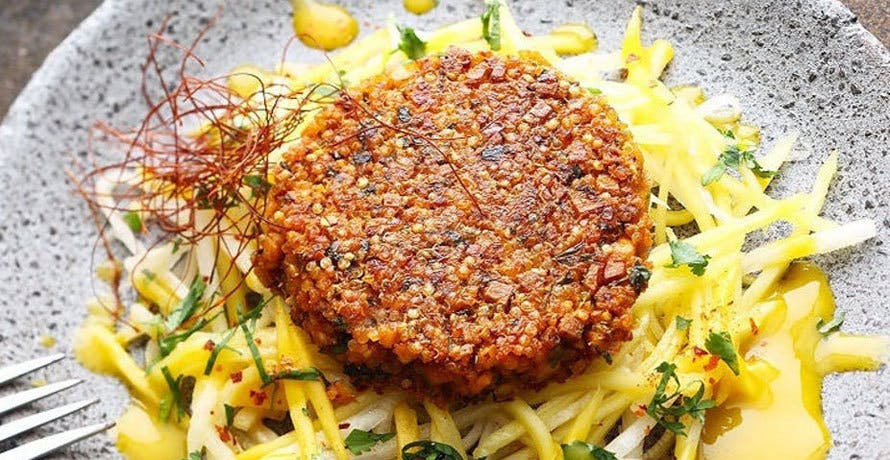 Think outside of the burger bun: A patty can also be delicious on its own.
Top tips for
barbecuing meatless burgers
When grilling vegan or vegetarian burgers, it's a great idea to put them on the barbecue first, before the meat options. This is the best way of keeping the meat and non-meat meals separate and ensuring no stray juices or grease make their way into a vegetarian's dinner.
Another thing to keep in mind is the cooking time itself. Vegetable-based patties often take a little less time to cook, and some ingredients, like tofu, can burn easily. Keep an eye on the grill and make sure to flip the patties regularly.
Ready to try something new?
Meatless alternatives are tasty, healthy, and easy to prepare. If you're thinking of trying something new at your next barbecue, grab your burger press and get grilling!