6 Delicious Recipes




for


Perfect Barbecue Potatoes
BBQ potatoes are a classic side dish for any grill session. Nothing pairs as perfectly with a steak or burger than a side of grilled potatoes. Try these six top barbecue potato recipes to elevate the simple side to a culinary masterpiece.
How to Cook
Perfect Barbecue Potatoes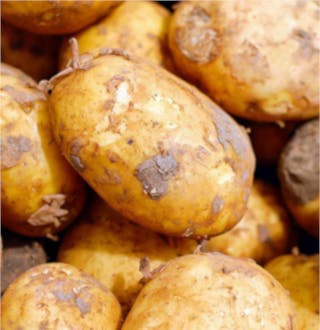 Depending on the recipe or style of potato dish, there are different cooking techniques that can be used. Many are familiar with the classic direct heat method where food is grilled directly over a flame. But did you know you can also cook 'indirectly' – and often get better results? Indirect heat grilling happens under a closed BBQ lid and uses the side of the flames to cook more evenly.
When it comes to preparing potatoes on the barbecue, the russet potato is always a good choice as it is quite sturdy.

Here are some quick tips to prepare these potato classics:
Grilled potatoes - Mix potatoes in a medium bowl combined with oil, rosemary, salt, and pepper. Brush the cooking grates clean. Grill the potatoes with the lid closed, until tender and browned on all sides.
Roast potatoes - the key to great roast potatoes is to par-boil them before cooking them on the barbecue. It's only a little extra effort but it's so worth it. Use a tray or basket for best results. Season with salt, pepper, rosemary and olive oil if desired and serve.
Hasselback potatoes - slice the potatoes thinly and almost to the bottom creating a fan effect. You can really make things interesting by adding garlic butter or melting cheese into each of the gaps to round off a delicious dish. These are often best prepared by par-boiling the potatoes and then wrapping them in foil, cooking with the indirect method. Use baking potatoes for best results.
Hash browns - a breakfast classic, but a great side for any occasion. Shred or grate some russet potatoes and season to taste (parmesan and pancetta work well). Place in a baking tin and cook using the indirect heat method.
Barbecue Potato Recipes
Need inspiration? These BBQ potato recipes are sure to fire you up.
1. Winter Root Vegetables
What's more comforting on a cold night than hearty BBQ veg to liven up your main? This winter root veg recipe uses the indirect heat method to achieve the perfect taste.
2. Almond Crust Roast Potatoes
This creative BBQ roast potato recipe is bound to impress guests. A delicious almond crust added to roasted potatoes, using the indirect heat method is a unique twist on a fan favourite.
3. BBQ French Fries with Tarragon Mayonnaise
Adds a little extra flair to a classic with this French fry recipe. The tarragon adds an extra depth to the mayonnaise, which is perfect for strongly seasoned BBQ food.
4. BBQ Jacket Potatoes with smoked BBQ Beans
Create the ultimate comfort food with this jacket potato recipe. Double wrapped potatoes in foil and cook directly on the coals, and add smoked beans. The 50/50 cooking method is recommended for best results.
Top tip: Use wood chips such as whisky wood chips for the perfect BBQ-smoked taste.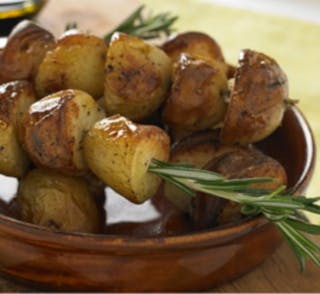 6. Garlic Roasted Potatoes on Rosemary Skewers
This garlic roast potato recipe adds an irresistible mouth-watering fragrance. Strip the rosemary of most of its leaves and thread halved potatoes on the skewer, then grill over direct heat for an aromatic, amazing result.
Enjoy these barbecue potato recipes and impress your dinner guests with these unique twists on a classic.