Holiday dishes across Southeast Asia
Grill Celebrations
CHRISTMAS.E.A. MEALS
Ditch the bad English weather, celebrating Christmas in sunny Asia where your toes are always warm is the new way to enjoy the holidays. Here's a look at how some countries around the region cap their year, and if the traditional turkey and ham has made its way to their tables.

Philippines
As a predominantly Roman Catholic country, Christmas is a pretty big deal in the Philippines. In fact, the countdown starts in September and last way past the 12 days of Christmas and into the new year. This rough four, almost five month period is known as the 'Ber Months', and to help you get started even earlier, you'll be able to find and buy decorations in August!
Feasting and parties are common during the holidays, culminating with Noche Buena a.k.a. The Good Night on Christmas Eve. Dishes on the table are local and very porky. Liempo or grilled pork belly, lechon kawali—a boiled and deep-fried pork belly, and lechon—roast pig.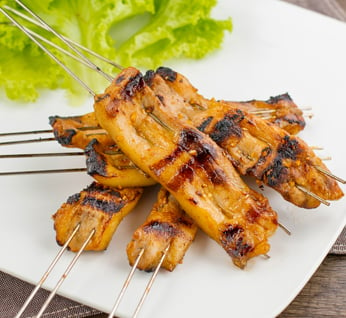 Add a taste of the Philippines to your Christmas do with our recipe for Adobo Skewers.
China
With only about 1% of the population being Christian, Christmas is mostly an urban affair with all the holiday trappings. A tradition that's gaining popularity with the locals is gifting apples wrapped in coloured paper. Why? In Mandarin, the word for apple (ping guo) sounds very much like the word for peace. The apples are gifted and eaten on Christmas Eve, which the Chinese call ping an ye—which holds the same meaning as the carol Silent Night.
The Chinese are no stranger to banquet dinners on special occassions. With zero hint of the typical western holiday fare, their celebratory meal consists of familiar flavors and dishes like nutritious soup with wood ears, barbecued pork and chicken.

India
Despite being a majority Hindu and Islam nation, the yuletide is celebrated in parts of India, especially in Goa—the smallest state in the country. Here, you'll see lights strung up on banana trees, lively parties on Goa's renowned beaches and carols sung and heard from its many beautiful old Portuguese-style churches.
You'll find familiar Indian favorites like pork curry and biryani on the table, alongside choices of desserts including bebinca—a traditional Indo-Portuguese pudding that resembles a layered cake and is commonly found in Goa.

Japan
You can always bank on Japan to be a little left field and unexpected—even when it comes to Christmas. Thanks to a successful advertising campaign in 1974 planting the idea—it also helped greatly that Colonel Sanders resembles ol' Kris Kringle, eating KFC for Christmas is a tradition in Japan. It's so popular that if you don't pre-book your Christmas meal, you'll likely be standing in line for hours just to get your hands on signature red and white bucket.

For Christmas sweets, the Japanese enjoy the English-inspired Christmas cake—a frosted sponge cake decorated with strawberries, and German Stollen cake, a cake-like fruit bread that's coated with powdered sugar. To amp up on Japanese flavors, swap the Stollen for Ryokucha Keki(Japanese Green Tea Cake) and sift extra powdered sugar on top to resemble snow on a field of green!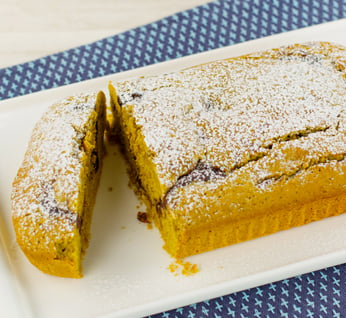 Related Posts