the

Ingredients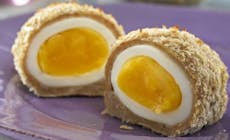 Instructions
Give this classic recipe a go. It's sure to be a hit with the whole family!
In the kitchen:
Begin with the pickled beetroots. Scrub the beetroots and wrap each in a piece of foil. Then cook on the grill (see below).
In a saucepan, bring the sugar, vinegar and water to the boil. Turn down the heat and simmer gently, stirring for 2 minutes until all the sugar has dissolved.
Turn off the heat – then add the coriander, mustard seeds and balsamic vinegar.
When the beetroots are cooked – peel them and grate with a cheese grater. Then carefully pour the hot vinegar mixture over the beetroot and leave to cool uncovered. Once cooled, pour olive oil over it.
Continue with the eggs. Very carefully place 6 eggs in a pan of simmering water and cook for 4 minutes. Once cooked, take the eggs out and plunge into a large bowl of cold water. Allow to cool for 5 minutes, then peel them.
In a bowl, mix the sausage meat with the normal bread crumbs, paprika, salt and pepper. Combine well.
Take an A4 size sheet of cling film and make a thin square patty from the mixture, measuring 12x12 cm. Place a peeled egg in the centre of the patty and gather up the cling film, bringing all corners of the patty together and enveloping the egg. Discard the cling film and even out the sausage meat gently by hand making sure there are no holes or gaps. Repeat with the other 5 eggs.
Put the flour in a bowl, 2 eggs in another bowl and the panko bread crumbs in a third bowl. Beat the eggs. Gently coat the meat-wrapped eggs in flour, one at a time. Transfer to the beaten egg and immerse. Finally, coat the entire surface thoroughly in panko bread crumbs.
At the barbecue:
Prepare the barbecue for indirect heat – approx. 180 ºC. Cook the beetroots (wrapped in foil) for 1 hour. Remove them and allow to cool for a few minutes.
Prepare the barbecue for indirect heat – approx. 200 ºC. Place the scotch eggs in a grill basket and put it on the grate.
Add a large handful of wood chips on the grate directly over the heat.
Close the lid and let it smoke for 15-20 minutes – or until the sausage meat has reached and sustained a temperature of 75 ºC and the eggs are golden brown.
Serve hot with the pickled beetroot.
All of our recipes are created by our expert chefs at the Weber Grill Academy. View more inspirational recipes or book a course at the Grill Academy now.

More

recipes
You May Also Like
More

recipes
You May Also Like