the

Ingredients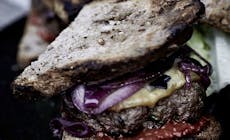 Patties
Special Equipment
Instructions
Barbecue Set Up

Prepare the barbecue for direct heat, approx. 200 °C. If using a 57cm charcoal barbecue, you will need ½ a chimney starter of lit Weber briquettes.

In the Kitchen:

Roughly chop the walnuts, combine with the minced beef and season well with salt and pepper

In a small mixing bowl combine mustard, mayonnaise and honey.

Peel and slice the red onions and combine with 1 tablespoon of vegetable oil.

Wash and coarsely grate the pear and drizzle with orange zest and orange juice.

Shape the meat into 4 equal balls and form 4 patties using the large side (1/2 LB) of the burger press

Cut out the centre of the burger by using a metal ring or glass (5cm diameter).

Shape a small patty out of the removed centre.

Brush all patties with the remaining vegetable oil.

Slice the buns open, spread with butter and set aside.

At the Barbecue

Insert the GBS Griddle into the GBS Cooking Grate (direct heat) and preheat for about 5 minutes.

Add the oiled onions to the Griddle, followed by the butter.

Cook the onions until soft then add the grated pears followed by the red wine and cook until the liquid is almost gone.

Remove the onions from the Griddle.

Clean the Griddle and preheat for another 5 minutes.

Place the large patties in the Griddle and add the sliced goats' cheese into the centre.

Cook the patties for about 1-2 minutes the flip them and place the small patties and the bacon directly on the Cooking Grate over direct heat.

After another 2 minutes flip the small patties and remove the large patties.

Remove the small patties and the bacon when cooked, quickly toast the buns on direct heat and start to assemble the burger.

Tips for Assembling:

Add the BBQ sauce to the bottom bun, followed by some lambs lettuce. Now add the large patty, followed by some onions, followed by the bacon and top with more onions and cranberry chutney (if wanted). Spread some mustard-mayonnaise to the top bun and close the burger.
All of our recipes are created by our expert chefs at the Weber Grill Academy. View more inspirational recipes or book a course at the Grill Academy now.

What do you need?
Recommended Tools
What do you need?
Recommended Tools
More

recipes
You May Also Like
More

recipes
You May Also Like