the

Ingredients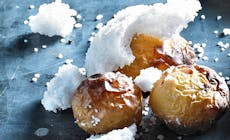 Special Equipment
Deep ovenproof dish measuring 13x18 cm
Instructions
IN THE KITCHEN:
1. Clean the potatoes. If they get wet, is important to dry them thoroughly before continuing.
2. Pour 1½ cm of salt into the bottom of the dish. Then arrange the potatoes side by side and cover completely with the remaining salt.
AT THE BARBECUE:
1. Prepare the barbecue for indirect heat. To reach 200°C, you will need the equivalent of two measuring cups of Weber briquettes.
2. Place the ovenproof dish containing the potatoes in the centre of the grate, close the lid and bake for 15-20 minutes. Remove the dish from the barbecue and allow to cool, then break up the salt and serve.
TIP: You can save the salt for the next time you make salt-baked potatoes.
All of our recipes are created by our expert chefs at the Weber Grill Academy. View more inspirational recipes or book a course at the Grill Academy now.

More

recipes
You May Also Like
More

recipes
You May Also Like