the

Ingredients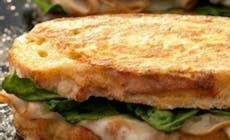 Instructions
This quick and tasty barbecued sandwich recipe fits perfectly in a lunchbox!
Method:
Prepare the grill for direct cooking over medium-low heat (about 175°C) and preheat the griddle.
Spread ½ tablespoon of the mustard on each of the bread slices, using 4 tablespoons total. Place one cheese slice, then two turkey slices, then ⅓ cup baby spinach leaves on top of four of the bread slices, folding the ingredients so they don't hang over the edges of the bread. Top each with a second cheese slice. Cover with the remaining four bread slices, mustard side down, pressing the sandwiches together so they adhere.
In a large bowl whisk the eggs and the remaining 1 tablespoon mustard.
Holding a sandwich firmly together dip it into the egg mixture, turning to coat both sides generously and allowing the egg mixture to soak into the bread slightly. Place the sandwich on a rimmed baking sheet. Repeat with the remaining sandwiches and batter.
Add 1 tablespoon butter to the griddle to melt. Working in batches if necessary, place the sandwiches on the griddle and grill over direct medium-low heat,with the lid closed, until the bottoms of the sandwiches are golden brown, 2 to 3 minutes. Turn the sandwiches over and continue grilling, with the lid closed, until golden brown on the bottom and the cheese is melted, 2 to 3 minutes more, watching closely to avoid burning. Remove the sandwiches from the griddle. Repeat with any remaining sandwiches, adding a second tablespoon of butter to the griddle if necessary. Serve right away.
All of our recipes are created by our expert chefs at the Weber Grill Academy. View more inspirational recipes or book a course at the Grill Academy now.

More

recipes
You May Also Like
More

recipes
You May Also Like