the

Ingredients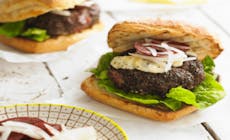 Instructions
To celebrate the new Autumn season, our chefs have put together this delicious venison burger for you to try.
In the kitchen:
Mix the mince, chopped bacon and thyme together in a bowl. Divide the mixture into four and using the Weber Burger Press shape your patties.
Put onto a plate and chill for an hour to firm up before cooking.
If using a kettle barbecue use a Weber Chimney Starter. Half fill it with Weber Steakhouse Charcoal and light. Once lit, pour the coals onto the middle of the coal grate. Put the grill in place then allow a Weber Griddle to pre-heat for 5 minutes.
In a dish, combine the salt and cracked pepper. Press the burgers into the dish coating the outside in a salt and pepper crust.
At the barbecue:
The burgers are now ready to barbecue. Place onto the hot griddle, put the lid on and allow to cook for 2-3 minutes.
Check to see if the burgers will self-release from the griddle and flip. Before putting the lid back on add a slice of cheese to the top of each burger.
Cook for a further 2-3 minutes or until cooked through. Using a temperature probe, ensure the core of the burger has reached 75°C. Remove and rest for 2 minutes while you cut and toast the bun.
Serve with diced sweet white onion, thinly sliced beetroot and a sauce of your choice.
All of our recipes are created by our expert chefs at the Weber Grill Academy. View more inspirational recipes or book a course at the Grill Academy now.

More

recipes
You May Also Like
More

recipes
You May Also Like