the

Ingredients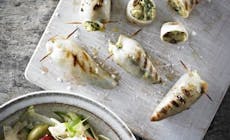 Instructions
Give this quick and easy dish a go. It's perfect for a warm summer's day.
In the kitchen:
Clean out the heads of the squids. Remove the beaks, located at the junction of the tentacles. Rinse well and blot dry.
Cut off the tentacles and chop finely. Put them in a bowl.
Grate the bread, cheese and garlic and add it to the bowl.
Wash the parsley, chop it finely and mix it into the bowl.
Add the lemon zest, olive oil, salt and pepper to taste. Stir in the raisins and pine nuts.
Using a teaspoon, fill the heads of the squids with the filling. Close with a toothpick and set aside.
Now make the salad. Rinse the fennel, remove the outer leaves, cut in half and then in julienne strips.
Peel the oranges and cut into wedges – making sure to remove the membranes.
Clean the spring onions and cut into small rings.
Add to the fennel mix with the olives.
Season liberally with olive oil, salt and pepper. Add the vinegar and stir.
Check the seasoning and set aside.
At the barbecue:
Prepare the barbecue for direct heat – approx. 160 ºC. Place the sear grate or griddle on the barbecue and let it preheat for 10 minutes.
Brush the squids with olive oil and grill for 12-14 minutes. Turn them every 3 minutes.
When the squids have clear grill marks and are brown and crispy – remove them from the barbecue.
Serve with the salad.
All of our recipes are created by our expert chefs at the Weber Grill Academy. View more inspirational recipes or book a course at the Grill Academy now.

More

recipes
You May Also Like
More

recipes
You May Also Like