the

Ingredients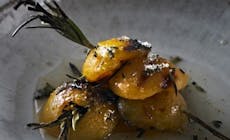 Instructions
A simple but stunning dessert.
In the kitchen:
Wash the apricots and cut them in half.
Choose the four best rosemary sprigs.
Use them as skewers and thread four apricot halves onto each sprig.
Keep one extra rosemary sprig aside.
At the barbecue:
Prepare the barbecue for direct heat – approx. 200 ºC. Put the extra rosemary sprig on the barbecue for 2 minutes. Then strip off the leaves and blend them with the sugar.
Place the skewers on the grate. Cook for 5 minutes with the lid closed, turning once halfway through cooking. Then remove from the heat.
Sprinkle the rosemary sugar over the skewers before serving.
All of our recipes are created by our expert chefs at the Weber Grill Academy. View more inspirational recipes or book a course at the Grill Academy now.

More

recipes
You May Also Like
More

recipes
You May Also Like