the

Ingredients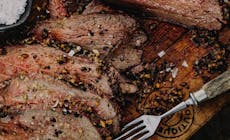 Special Equipment
Smoker box, beef blend woodchips
Instructions
Soak the woodchips in water for at least 30 minutes.

Peel the ginger and garlic and chop coarsely, then work into a paste using a pestle and mortar.

Roast the coloured peppercorns and allspice in a pan over a low heat until fragrant, then add to the garlic-ginger paste and pound until a medium-fine consistency is achieved. Mix together with the chilli flakes, sea salt and sugar.

Melt the butter in a pan, add to the mortar and then thoroughly blend the mixture.

Rub the spice mixture into the beef.

Prepare the barbecue for indirect heat at 140–160° C. Drain the woodchips and place them in the smoker box. Place the smoker box on the barbecue and wait for the chips to start smoking.

Place the beef joint over indirect heat.

Stick a meat probe into the centre of the joint, close the barbecue lid and cook until a core temperature of 58° C is reached.

For a more powerful smoky aroma, more soaked woodchips can be added. Baste the beef periodically with the Madeira to keep it moist.
All of our recipes are created by our expert chefs at the Weber Grill Academy. View more inspirational recipes or book a course at the Grill Academy now.

What do you need?
Recommended Tools
What do you need?
Recommended Tools
More

recipes
You May Also Like
More

recipes
You May Also Like