Our Weber tips helps you practise charcoal barbecue safety so you can have the best barbecuing experience.
Top charcoal barbecue safety tips
How to safely position your barbecue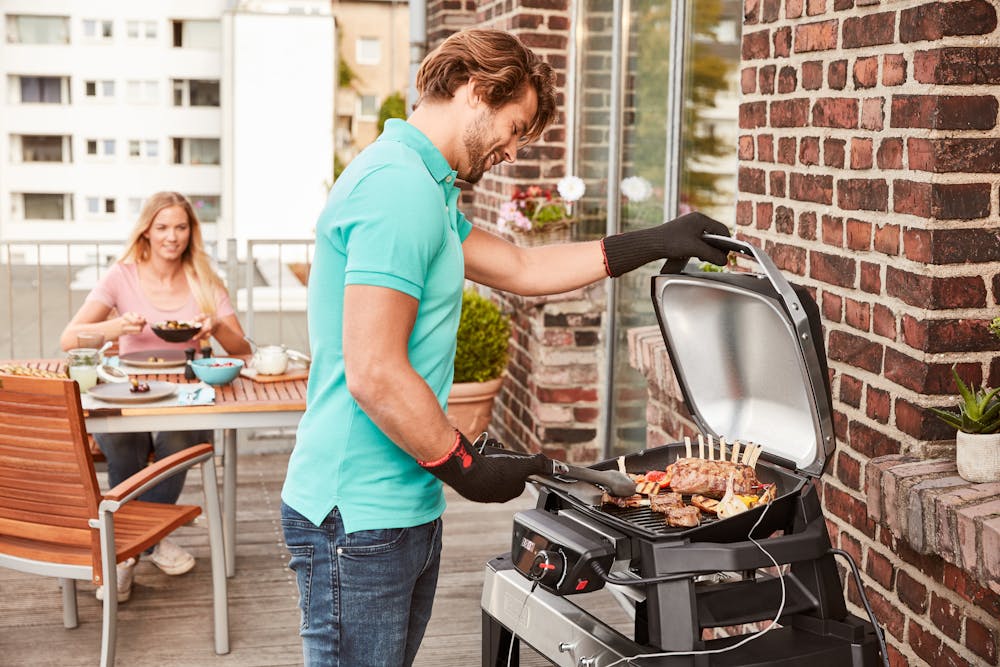 Weber's range of charcoal barbecues are exclusively designed for outdoor use, which means they are suitable for all open and unrestricted spaces. Store yours on a patio or in the garden for easy access from the kitchen and the perfect communal environment for cooking with friends. If placing on wooden decking, slip a flame-retardant decorative mat under your barbecue to rid any doubts about grease or embers while cooking.
Our barbecues are designed to heat up to high temperatures and manage thermodynamics with ease, meaning that cooking the Weber Way with your charcoal barbecue is safe, precise and stress-free. When you open the barbecue, remember that the hottest area of the barbecue is slightly above waist height, so ensure none of your garden foliage leans down into the grilling area. It is best to position your barbecue approximately three feet from any walls or fencing. Make sure that the barbecue is on a flat, firm area and that you can move freely around your barbecue.
Can I use a barbecue on my balcony?
As of 2018, there is no law prohibiting the use of barbecues on balconies in the UK, but it could be forbidden by your building management; make sure to read your contract carefully beforehand.
Although you might not be able to use your charcoal barbecue on an apartment balcony, city dwellers can still enjoy fantastic barbecue food with Weber's Pulse barbecues that are devised specifically with smaller spaces and fuel restrictions in mind.
General safety tips for using a charcoal barbecue
Having control of your fuel, from lighting to extinguishing, is very important when using a charcoal barbecue. Read our guide to controlling the temperature of a charcoal barbecue for extensive tips.
Remember to never leave the barbecue unattended, and to extinguish properly.
This is a carousel of various images or videos. Use Next and Previous buttons to navigate.
Cleaning tips to aid barbecue safety
When cleaning your barbecue, it is best to concentrate your efforts on the cooking grates: when meat sears, it releases fats and juices that can prompt flare ups if they make contact with the coals underneath. A great way to reduce this happening is by using an indirect cooking method or by using a drip pan. Before each cook, pre-heat your barbecue for 10-15 minutes and then brush off any excess food debris and carbonised fats with a grill brush.
Summary
Prioritising safety with your charcoal barbecue means guaranteeing an evening of total relaxation for both you and your loved ones. With Weber's range of equipment and in-depth know-how you can ensure a safe and relaxed environment.
Related Posts