the

Ingredients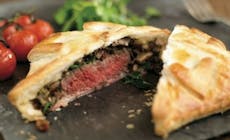 Instructions
They say the best way to someone's heart is through their stomach. Cook your loved one our mouth-watering recipe for Beef en Croute this Valentine's Day!
Method
Set your barbecue up for  roasting (in-direct method) at a high heat.
Place the butter and olive oil into a frying pan and place on a medium heat. Sauté the shallots and chestnut mushrooms for 10 minutes, until tender.
Drain the porcini mushrooms, finely chop and add to the frying pan.  Cook for a further 5 minutes, season with salt and black pepper to taste.
Remove from the heat and stir through the parsley and sundried tomatoes.
Sear the steak for 30 seconds, on each side.  Remove from the grill and allow to cool.
Roll out the pastry to approximately  2 x 25cm squares.  Reserve the pastry trimmings for decoration.  Place the steaks in the middle and top with the mushroom mixture.
Take all four corners to meet in the centre and pinch together to make a seal.  Brush with egg wash and decorate with the pastry trimming shaped into hearts.
Add to a grill tray, lined with parchment.  Place onto the barbecue over an indirect heat and bake for 20-25 minutes until the pastry is cooked through and golden. Leave to rest for 5 minutes and serve.
All of our recipes are created by our expert chefs at the Weber Grill Academy. View more inspirational recipes or book a course at the Grill Academy now.

More

recipes
You May Also Like
More

recipes
You May Also Like