the

Ingredients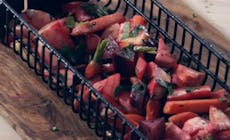 Instructions
Give the root veggies a try on your barbecue with the Rotisserie Basket. Great flavour and result!
In the kitchen:
Peel the root vegetables and cut them into large pieces. Coarsely chop the herbs. Finely chop the garlic.
Combine everything and coat in oil, salt and pepper.
Spray the basket with oil and put the root vegetables in the basket.
At the barbecue:
Prepare the grill for direct high heat.
Place the rotisserie with the basket on the grill.
Let the root vegetables rotate for approx. 30 min. or until tender.
Tip: Make sure to cut the root vegetables in large pieces so they do not fall through the holes in the basket.
All of our recipes are created by our expert chefs at the Weber Grill Academy. View more inspirational recipes or book a course at the Grill Academy now.

More

recipes
You May Also Like
More

recipes
You May Also Like