the

Ingredients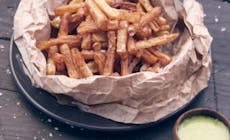 Instructions
In the Kitchen:

Rinse and drain the tarragon, then finely chop. Slice the lemon in half and grill one half over high heat, cut-side down. Press the juice of the grilled lemon half and combine with the mayonnaise and tarragon. Season with salt and pepper.

Carefully wash the potatoes to rinse of excess starch, and pat dry on kitchen roll. Cut lengthwise into thick sticks and coat with oil, salt and pepper. Place them in the fine-mesh rotisserie basket. Attach the basket to the rotisserie spike.

At the Barbecue:

Prepare the grill for indirect high heat. Place the rotisserie with the fine-mesh basket on the grill and start the motor. Grill the potatoes for 1 hour – or until crispy. Sprinkle the cooked potatoes with coarsely chopped rosemary.

Serving Suggestion

French fries and mayonnaise are the perfect accompaniment to all kinds of BBQ meals. Why not try them with a barbecued steak?
All of our recipes are created by our expert chefs at the Weber Grill Academy. View more inspirational recipes or book a course at the Grill Academy now.

More

recipes
You May Also Like
More

recipes
You May Also Like