the

Ingredients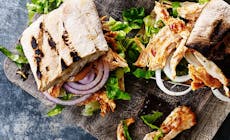 Special Equipment
Instructions
In the kitchen:

First, make the rub for the chicken by finely grinding all the ingredients in a pestle and mortar.

Make the herb butter by finely chopping the tarragon, holding back one sprig for later. Zest half the lemon. Add the chopped tarragon and lemon zest to the butter along with the salt and pepper. Mix until the butter is well combined, then roll into a cylinder-shape and refrigerate until firm.

Cut two rounds from your roll of butter, then using your fingers, carefully feed the butter between the skin and meat of the raw chicken. Take extra care not to tear the skin. Keep some of the butter to be used for assembling your sandwich.

Lightly oil the exterior of the chicken and coat evenly with the rub.

Lightly oil the exterior of the chicken and coat evenly with the rub.

Half fill the cup in the center of the GBS Poultry Roaster with the dark stout beer. Add the garlic and the remaining sprig of tarragon.

Firmly sit the chicken on the GBS Poultry Roaster cup, making sure the bird is stable and upright. Cut a wedge from the remaining lemon and plug the neck cavity of the chicken. This will keep the steam inside the chicken and stop it from escaping.

At the barbecue:

Prepare the barbecue for indirect heat, approx. 180 °C. Place the chicken over the area of indirect heat and close the lid. Roast the chicken for around 1 hour 10 minutes, or until the core temperature of the meat has reached 75 °C. You can check this with a Weber Instant- Read or iGrill thermometer.

Allow the chicken to rest for 10 minutes before carving.

Slice and toast the ciabatta on the barbecue.

Butter the toasted ciabattas with the remaining herb butter. Fill the ciabatta with the beer chicken, salad and any other extras of your choice (e.g. cheese or sauce).
All of our recipes are created by our expert chefs at the Weber Grill Academy. View more inspirational recipes or book a course at the Grill Academy now.

What do you need?
Recommended Tools
What do you need?
Recommended Tools
More

recipes
You May Also Like
More

recipes
You May Also Like