the

Ingredients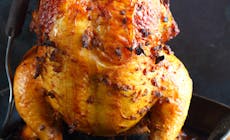 Cabbage
Special Equipment
iGrill/Thermometer
Deluxe Poultry Roaster
Instructions
Barbecue Set Up

Prepare the barbecue for indirect heat, approx. 180 °C. If using a 57cm charcoal barbecue, you will need ½ a chimney starter of lit Weber briquettes.

In the Kitchen:

Finely slice the cabbage (using a mandolin if available), chop the bacon and grate the apple.

Combine the cabbage, bacon and apples in a large mixing bowl, season with salt and honey, then knead carefully.

Add the thyme and 250 ml of mulled wine and mix.

Leave the cabbage to marinate for about 30 minutes.

Using a pestle and mortar grind allspice, cinnamon, nutmeg, clove, orange zest and brown sugar.

Add 1 tablespoon of orange juice to make a paste and season with salt and pepper.

Coat the chicken (outside & inside) with the paste and massage into the skin.

Pour the rest of the mulled wine into the base cup of the Poultry Roaster, and attach the infusion cone.

Distribute the marinated red cabbage on the bottom of the Poultry Roaster and place the chicken onto the infusion cone.

At the Barbecue:

Place the chicken over the indirect heat and cook for approximately 75 minutes or until the juices run clear and the meat has reached a core temperature of 75 °C.

Remove the chicken, and let rest for 10 minutes before serving.

Tips

Instead of wine you can also use a mix of grape juice and water (50/50).
All of our recipes are created by our expert chefs at the Weber Grill Academy. View more inspirational recipes or book a course at the Grill Academy now.

What do you need?
Recommended Tools
What do you need?
Recommended Tools
Wok Set with Steaming Rack
More

recipes
You May Also Like
More

recipes
You May Also Like