the

Ingredients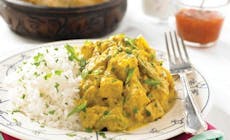 Instructions
This tasty Pasanda recipe is a great way to use up leftover Turkey.
Method:
Mix the cubed turkey in a bowl with all the marinade ingredients and set aside.
Set the barbecue up for grilling (direct method) and pre heat the Gourmet BBQ System Wok.
Meanwhile prepare the onion, ginger, green chilli, garlic. Add a good glug of oil to the hot wok; the wok should smoke straight away. Add the onions and stir immediately. Cook until well coloured about 1-2 minutes.  Add the chilli, garlic and ginger plus a little chicken stock if the wok seems too hot.
Add the turkey and all the marinade stirring well. Add the stock, ground almonds, gram masala and butter and simmer for several minutes until the sauce is thick and the turkey has safely heated through. Serve with chopped coriander and sliced green chillies.
All of our recipes are created by our expert chefs at the Weber Grill Academy. View more inspirational recipes or book a course at the Grill Academy now.

More

recipes
You May Also Like
More

recipes
You May Also Like