the

Ingredients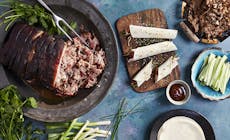 Instructions
In the kitchen:

Mix the rub ingredients thoroughly until even.

Apply the rub generously to the meat.

Let the rub infuse into the meat in the fridge, ideally overnight.

At the barbecue:

Prepare the barbecue for indirect heat, approx. 130°C. If using a 57cm charcoal barbecue, you will need 1/3 chimney starter of lit Weber briquettes

Place the pork on cooking grate adding wood chunks to the coals. Then place the lid back on the barbecue.

Slow cook for 2 hours replenish with coals with ore wood chunks if needed. It is important barbecue maintains a temperature no hotter than 130°C.

After 2 hours remove the pork shoulder and tightly wrap in butcher paper before returning to the grill.

When the core temperature reaches 90°C, the meat is ready and can be unwrapped and pulled using a couple of forks.

To serve add pulled pork to Chinese pancake followed by hoisin sauce. Finish with spring onions and cucumber.

Chefs tips:

Jackfruit can serve as a fantastic pulled pork substitute. Tinned shredded fruit is the easiest and most readily available.

Drain from water and allow to dry, toss in olive oil. Coat in rub and smoke on the barbecue for 30 minutes. Serve with pancakes hoisin sauce and garnishes.
All of our recipes are created by our expert chefs at the Weber Grill Academy. View more inspirational recipes or book a course at the Grill Academy now.

More

recipes
You May Also Like
More

recipes
You May Also Like