the

Ingredients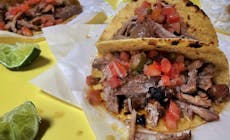 RUB
Special Equipment
Instructions
In a small bowl, mix the ingredients for the spice mix and evenly season the pork ribs with it.

Prepare the grill for indirect medium-low heat (150°C - 180°C).

In a medium saucepan, combine the ingredients for the searing liquid and bring to a boil over a burner over high heat. Pour the braising liquid into a large roasting pan and place in it over medium-low indirect heat.

Grill the pork over direct heat, keeping the lid closed, until browned on all sides (8-10 minutes), turning four times. Transfer the meat to the saucepan. Cover the pan or cover well with aluminum foil. Grill over medium-low indirect heat, maintaining temperature as close to 180°C as possible, with lid closed, until meat pierces easily with a fork (2¾-3 hours), turning once every hour.

Using a spoon, transfer the meat and onion from the searing liquid to an aluminum tray and set aside while it cools slightly. Keep the pan on the grill.

Increase the temperature of the grill to high heat (230°C - 290°C).

While the grill recovers its temperature, move the pan to the direct fire area and bring the brazing liquid to a boil (with the pan uncovered and the grill covered); cook until liquid is reduced by about half (5-7 minutes). Meanwhile, shred the meat and remove the larger pieces of fat.

When the brazing liquid has reduced, transfer the pan to indirect high heat. Pour almost all but a few tablespoons of the searing liquid into a small bowl. Leave just enough liquid to cover the bottom of the pan. Add the shredded pork to the saucepan and cook, keeping the spit lid closed, until the edges are lightly browned and caramelized (10-15 minutes), stirring occasionally. As the meat browns, sprinkle it with the reduced searing liquid, 1 tablespoon at a time, to prevent it from drying out. It may not be necessary to use all of it.

Serve the shredded pork and onion hot in tortillas, accompanied by sauce and lemon wedges.
All of our recipes are created by our expert chefs at the Weber Grill Academy. View more inspirational recipes or book a course at the Grill Academy now.

What do you need?
Recommended Tools
What do you need?
Recommended Tools
More

recipes
You May Also Like
More

recipes
You May Also Like