the

Ingredients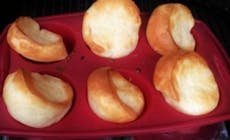 Instructions
Fantastic recipe for tasty Yorkshire puddings from a Weber fan, @Graboid456
Method:
Mix all ingredients together.
Line a muffin tray with some oil to stop the puds sticking (I use coconut oil).
Pour the mixture into the muffin try about a third of the way full.
Cook indirect at 235°C for approximately 30 minuted (until crispy and brown).
Tip: Do not open the lid. Place the muffin tray under the top vent holes and use a torch to check on progress.
All of our recipes are created by our expert chefs at the Weber Grill Academy. View more inspirational recipes or book a course at the Grill Academy now.

More

recipes
You May Also Like
More

recipes
You May Also Like