the

Ingredients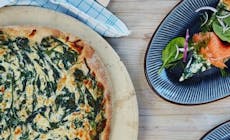 Instructions
Amazing fresh pizza with smoked salmon and creamed spinach.
In the kitchen:
Dissolve the yeast in the water. 
Add salt and olive oil. 
Stir some of the durum flour into the yeast mixture until it is smooth and does not contain any lumps. 
Stir the plain flour in a little at a time until the dough no longer sticks to the bowl. The dough should feel a little sticky. 
Divide the dough in two.  
Roll out the pizza dough on remaining durum flour and place on the baking tray.
Wash the spinach and crush the garlic.
Grate the mozzarella and mix with spinach, garlic and ricotta. Add oil to smooth texture.
Spread creamed spinach on the bases before putting them on the barbecue.
At the barbecue:
Fill the chimney starter with Weber briquettes and prepare the barbecue for indirect heat - approx. 280-290°C.
Put the pizza stone on the grate and preheat well for approx. 10 min. 
Put the baking tray with the pizza dough on the stone and bake the pizza bases for approx. 6 min until the bottom is crisp and golden.
Tip: If necessary, add more briquettes (approx. a third of a chimney starter) when putting the pizza stone on in order to turn the heat right up. Remember to keep an eye on the pizza by lifting it and checking the base occasionally. The cooking time can vary slightly, depending on the temperature outdoors.
All of our recipes are created by our expert chefs at the Weber Grill Academy. View more inspirational recipes or book a course at the Grill Academy now.

More

recipes
You May Also Like
More

recipes
You May Also Like