the

Ingredients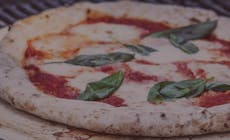 Special Equipment
Instructions
In the Kitchen

Pour the water into a mixer, dissolve the salt, add 10% of the total amount of flour and then add the yeast.

Start the mixer, and then gradually add the rest of the flour until combined.

Mix the dough at a low speed for 20 minutes, until the dough forms a single ball. To obtain optimum dough consistency, make sure you control the quantity of water. The mixture should be sticky, soft and elastic to the touch.

Remove the dough from the mixer, and place it on a surface to rest for 2 hours at room temperature. Then cut the mixture into small balls or 'panetti', weighing between 170 and 230 g each.

Put the panetti in a box or a tray for the second rising stage, between 4 to 6 hours.

In the meantime, season the tomato sauce with oregano and salt. Chop the mozzarella.

At the Barbecue

Prepare the barbecue for high heat 280–290°C and place the GBS pizza stone into the cooking grate to preheat for 15–20 minutes.

When the barbecue has just about achieved its desired heat, roll out the panetti into disks of dough ensuring the centre is no more than 4 mm thick. Spoon a quarter of the tomato sauce into the centre of each base, then in a spiralling motion, cover the base with the sauce, leaving 1 cm around the edge. Spread the mozzarella evenly over all the pizzas, before adding some basil leaves and a little extra virgin olive oil.

Sprinkle the Pizza Paddle with a little flour to make the surface more slippery. Using the Pizza Paddle, slide the pizza onto the pizza stone and close the lid of the barbecue. Cook the pizza over indirect heat until the base is crispy.

Serving Suggestion

The options are endless! Go for classic Italian bruschetta, or a simple green side salad.
All of our recipes are created by our expert chefs at the Weber Grill Academy. View more inspirational recipes or book a course at the Grill Academy now.

More

recipes
You May Also Like
More

recipes
You May Also Like