the

Ingredients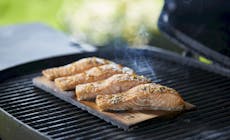 Special Equipment
Western Red Cedar Wood Planks - Small
Instructions
IN THE KITCHEN:

Soak the cedar wood smoking plank in water for at least 1 hour.

Place the salmon on a clean work surface, skin side down, and season with salt and pepper.

Brush the salmon with the mustard and sprinkle with the brown sugar.

ON THE BARBECUE:

Prepare the barbecue for indirect grilling, approximately 180°C.

Brush the grill clean. Remove the plank from the water and place it on the grill grate over direct heat. Close the lid, then after about 5-10 minutes the plank will start to smoke, turn the plank over and place it over the indirect zone.

Place the salmon on the plank, skin side down. Cook the salmon on the plank for about 25 minutes, until the salmon is no longer translucent and begins to brown slightly on the sides.
All of our recipes are created by our expert chefs at the Weber Grill Academy. View more inspirational recipes or book a course at the Grill Academy now.

More

recipes
You May Also Like
More

recipes
You May Also Like