the

Ingredients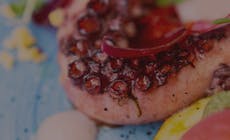 Special Equipment
Instructions
Wash, pare and prepare the ingredients: Cut the avocados in half, remove the stones and set them aside for cooking on the griddle. Cut the peaches into quarters and leave them to marinate in the white balsamic vinegar for about 15 to 20 minutes. Cut the tomato into thick round slices. Break off small coloured cauliflower florets and thinly slice them. With a mandoline, slice the beetroot into ribbons and chill them in a bowl of iced water (between 2–10°C) together with the herbs to preserve the colours and textures.

Prepare the barbecue for cooking on direct heat at 240°C and preheat the griddle.

When the griddle is hot, sear the six avocado halves for about 2 minutes on each side. Keep four halves for serving. In a bowl, use a fork to crush the remaining two halves into a guacamole; blend in one teaspoon (5 ml) of olive oil, a pinch of salt and pepper and keep it chunky.

Pour a dash of olive oil on the griddle, place the octopus and tomatoes on it and grill them for about 5 minutes, making sure to cook them properly on all sides.

For each serving, arrange a tomato in the center of a plate, add one half of a grilled avocado filled with the homemade guacamole, then place a piece of octopus on top of it for volume. To finish, add the beetroot ribbons, quartered peaches, cress and sliced florets of coloured cauliflower, and finish the dish off with a dash of olive oil to taste.
All of our recipes are created by our expert chefs at the Weber Grill Academy. View more inspirational recipes or book a course at the Grill Academy now.

More

recipes
You May Also Like
More

recipes
You May Also Like