the

Ingredients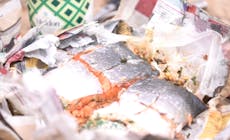 Special Equipment
Weber Connect Smart Grilling Hub
Newspaper
Baking paper
String
Instructions
In the kitchen

Begin by making the stuffing. You can do this several hours in advance if you want to get ahead. Set a large frying pan over a high heat, tip in the pine nuts, and let them toast to a golden brown. Transfer to a bowl and stir through the capers, garlic, parsley, chives and olive oil. Season well with Maldon salt and pepper.

Sprinkle a little Maldon salt on the skin side of both salmon fillets, rubbing it in well in the cuts through the skin. Rest one of the salmon fillets, skin side down, on a large sheet of baking paper. Spoon the filling on top of the fillet, pressing it down firmly all the way to the edges.

Lay the second fillet, skin side up, over the filling to make a salmon 'sandwich'. Bring up the sides of the baking paper to wrap and cover the fish completely. Then spread out the newspaper and lift the fish on to it, wrapping it up in a bundle. Use string to tie and secure the newspaper in several places.

Now lift the fish parcel and hold it under a gently running cold tap or dip in a dish of water to dampen the newspaper all over. This will create a steamy environment for the fish to cook in.

Make the lemon yogurt dressing just before the salmon is ready. Simply mix together the yogurt, lemon juice and zest and a good seasoning of Maldon salt and pepper.

At the barbecue

Set up your barbecue ready for indirect cooking over a medium heat. Rest the fish parcel on the grill bars away from the fire. Insert the Weber Connect probe deep into the centre of the fish and shut the lid. Leave to cook until the internal temperature is 60°C.

Remove the salmon from the barbecue and rest the parcel on a serving platter, then cut through the top of the newspaper and peel back the layers to reveal the fish below. Cut into chunky slices and serve with lemon yogurt on the side.
All of our recipes are created by our expert chefs at the Weber Grill Academy. View more inspirational recipes or book a course at the Grill Academy now.

More

recipes
You May Also Like
More

recipes
You May Also Like