the

Ingredients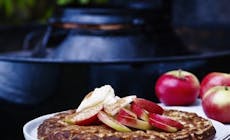 Instructions
A comforting version of traditional waffles that is delicious with coffee or as a dessert.
In the kitchen:
Wash and cut the apples – remove the core. Then dice or grate the apples. 
Melt the butter over a low heat. 
Mix the flour, baking powder, bicarbonate of soda, cinnamon, vanilla sugar and brown sugar, and beat gently with a hand mixer. 
Stir the eggs in one at a time, then add the milk and cream, followed by the melted butter. Stir the batter until smooth. 
Fold the apple carefully into the batter.
At the barbecue:
Prepare the barbecue for direct heat – approx. 185°C. Using a charcoal barbecue you need approx. 1/3 chimney starter of lit briquettes. 
Put the waffle and sandwich iron in the GBS grate and preheat for 5-8 minutes.
Divide the batter between the four sections, covering the entire surface. Close the iron and bake for 6-8 minutes. 
Then flip the iron and bake for roughly another 6-8 minutes, or until the waffle is golden on both sides. When the waffles are ready, place them on a grate so that they stay crisp.
All of our recipes are created by our expert chefs at the Weber Grill Academy. View more inspirational recipes or book a course at the Grill Academy now.

More

recipes
You May Also Like
More

recipes
You May Also Like