the

Ingredients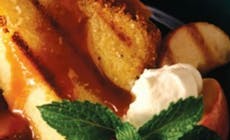 Instructions
This easy and delicious cake recipe will go down a treat with all dessert lovers. Give it a try!
Method:
In a saucepan over a medium heat, caramelise the sugar. When it becomes liquid and is dark brown in color, add the cream and reduce the heat. Add the butter and rum. Stir until the butter is melted. Remove from the heat.
Prepare the grill for direct cooking over medium heat (175° to 230°C).
Dust the pears with confectioners' sugar. Brush the cooking grates clean. Grill the pears over direct medium heat, with the lid closed as much as possible, until tender, 8 to 10 minutes, turning once or twice.
Sprinkle each slice of pound cake with confectioners' sugar and then tap off any excess. Grill the cake slices over direct medium heat until warmed through, about 2 minutes, turning once.
Cut the cake slices in half on an angle. To serve, cross each half piece with the other half on a serving plate. Arrange the pears around the cake and drizzle with the caramel sauce. Garnish with whipped cream and mint, if desired.
All of our recipes are created by our expert chefs at the Weber Grill Academy. View more inspirational recipes or book a course at the Grill Academy now.

More

recipes
You May Also Like
More

recipes
You May Also Like