the

Ingredients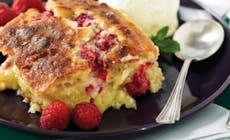 Instructions
The delicious white chocolate alternative to the classic brownie, these macadamia nut blondies are the ultimate sweet treat.
Made even better by adding fresh raspberries and serving warm with ice cream.
Method:
Line a large Weber drip tray with greaseproof paper and grease lightly.
Melt 125g white chocolate and butter in a pan.
Remove from the heat and add the caster sugar and desiccated coconut. Stir well until the sugar has dissolved.
Add the eggs, one at a time allowing each to be fully incorporated into the mixture.
Add the vanilla extract, chopped macadamia nuts and remaining white chocolate.
Stir in the flour thoroughly, gently fold in the raspberries (if using) and pour into the prepared Weber drip tray.
With the barbecue set up for the roasting method, place the tray in the middle of the cooking grate and bake for approx. 45 minutes, keeping the lid closed as much as possible.
To check the blondies are ready, insert a knife and the blade should come out clean.
Serve warm or cold with ice cream and fresh raspberries.
All of our recipes are created by our expert chefs at the Weber Grill Academy. View more inspirational recipes or book a course at the Grill Academy now.

More

recipes
You May Also Like
More

recipes
You May Also Like