the

Ingredients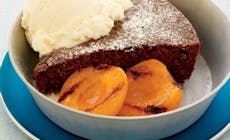 Instructions
This recipe for sticky gingerbread is the ideal comfort food for a chilly evening. Teamed with soft apricots, it makes the perfect winter warmer.
Method:
In a small bowl combine the flour, ginger, cinnamon, baking soda, and salt. In a medium bowl, using an electric mixer, beat ½ cup butter and the sugar on high speed until the mixture is light and fluffy, about 3 minutes. Beat in the egg and then the molasses. With the mixer on low speed, gradually add in the flour mixture, scraping down the sides of the bowl with a rubber spatula. Add the water and mix until smooth. Stir in the ginger. Cover a large Drip Tray with grease proof paper, poor in the mixture and spread evenly.
Prepare the barbecue for indirect cooking over medium heat.
Place the gingerbread over the indirect heat, with the lid closed, until a toothpick inserted in the center comes out clean, about 35 minutes. Keep the barbecues temperature as close to 350°F as possible. Wearing insulated barbecue mitts, carefully remove the Drip Tray from the grill.
In a large bowl gently toss the apricots with the melted butter, sugar, and rum. Lift the apricots from the butter mixture, letting the excess butter fall back into the bowl. Place the apricots, cut sides down, in a Weber Original Grill Basket and place in the barbecue, positioning over the area of direct heat. Keep the lid closed as much as possible, grill for 4 to 6 minutes, turning and brushing with the butter mixture once. Cooking times will vary depending on the ripeness of the apricots.
Cut the gingerbread into wedges and serve warm with the apricots. Spoon any remaining butter mixture over the top and serve with ice cream.
All of our recipes are created by our expert chefs at the Weber Grill Academy. View more inspirational recipes or book a course at the Grill Academy now.

More

recipes
You May Also Like
More

recipes
You May Also Like