Meat N16 is the original, and flagship, Meat London Shop. The company is the brainchild of two Stoke Newington friends and residents who pondered a number of joint business ventures before deciding what their local area really needed was a good butchers shop. We opened in the summer of 2011 and were very quickly welcomed and embraced by the local community. It was always part of our plan, and company ethos, that our shops would be part of the community. We have strived to ensure that Meat N16 holds its position as a traditional British butcher's, with a modern feel. The shop is small. There is no serve over counter. The customers get close to the Butchers and watch their meat being cut and prepared as they chat and pass the time of day.
Course can take a maximum of 14 participants

Indoor preparation kitchen

External garden Barbecue area

Situated in a busy premium butchers shop in a city location
Book a course now
The Team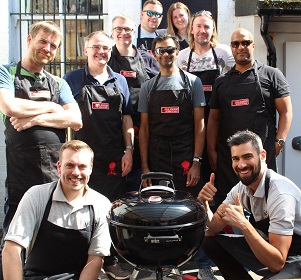 Kai Marsand has work for Meat London for the past three years. However he is no newbie to the trade. Kai has a staggering 20 years of experience working in the butchery industry under his belt.
Kai also works with James who is a fully trained butcher and has also worked at Meat N16 for around 3 years. Together with their passion and flair as grill masters and good humour this combo are sure to impress.
Next available courses