the

Ingredients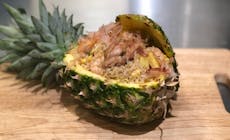 Special Equipment
Weber Gourmet BBQ System Wok
Instructions
At the barbecue:

Preheat grill to 230°C for 12 minutes with the lid down.

Grill the chicken breast and shrimp on Direct heat until half cooked. After which, dice the chicken and the shrimp. Reserve for later.

Take all the fruit out from the pineapple and make a pineapple boat, preserve 40g of the pineapple and dice them.

After preheating the wok and the grill, add in 50ml oil into the wok.

Add in Eggs when you can see the smoke from the oil.

Add in the rice and mixed vegetable before the eggs are fully cooked, add in 2tsp salt and pepper for seasoning and keep the rice moving until it become fried rice, add in diced chicken and shrimp.

Lastly put fried rice into the pineapple boat and sprinkle bonito flakes on top for finishing.
More

recipes
You May Also Like
More

recipes
You May Also Like