Genesis® II S-455 GBS Gas Grill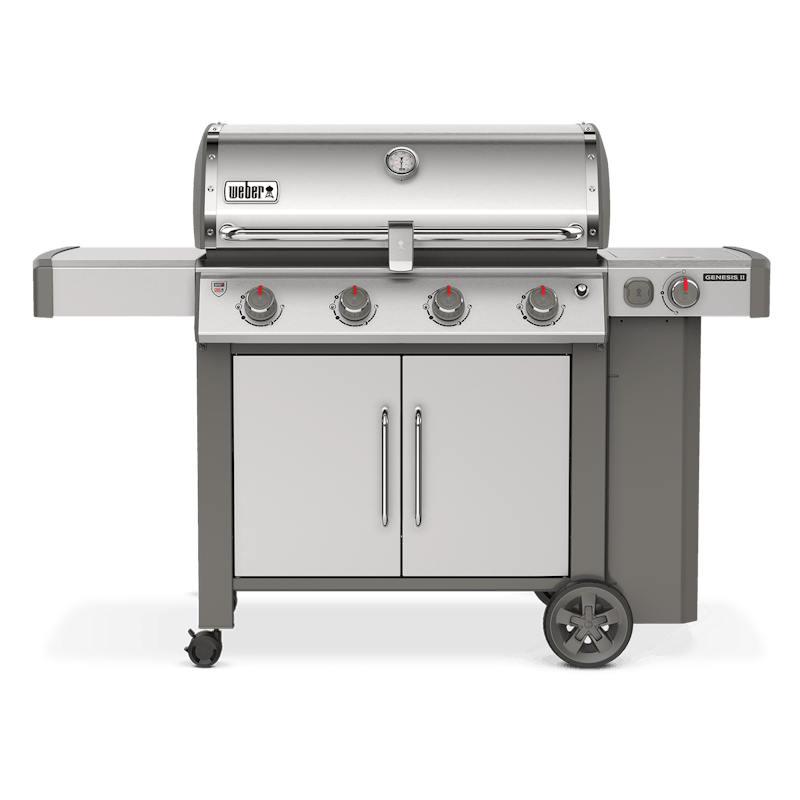 Availability:
This item is currently not available
Just what you need for a party your guests will never forget. A large grilling area, High+ burners on a high performance grilling system, a side burner and a convenient side table for prep, are all you need to easily serve perfection any night of the week, and then some. Best of all, the Genesis II S-455 is backed by an outstanding 10 year warranty on all parts of the grill for years of grilling pleasure.
Complete the Set



Precision Grill Tongs & Spatula Set
Carousel containing list of product recommendations. Please use left and arrows to navigate.
Genesis® II S-455 GBS Gas Grill
Free Shipping on Orders above ¥5,000
For orders below ¥5,000, products are shipped out within 3 business days. A notification will be sent to you to track your delivery. SHIPMENT & RETURNS POLICY
Main burners: kW/h

14.07

Side burner: kW/h

3.52

Dimensions - Lid Open (centimeters)

158cm H x 166cm W x 79cm D
Dimensions - Lid Closed (centimeters)

120cm H x 166cm W x 74cm D

Primary cooking area (centimeters)

86 x 48

Tuck-Away warming rack area (centimeters)

84 x 15
View All Specifications
Warranty information
Frequently Compared

Genesis® II S-455 GBS Gas Grill

Price:

Main burners: kW/h:

14.07

Side burner: kW/h:

3.52

Dimensions - Lid Open (centimeters):

158cm H x 166cm W x 79cm D

Dimensions - Lid Closed (centimeters):

120cm H x 166cm W x 74cm D

Genesis® II E-415 GBS Gas Grill

Price:

Main burners: kW/h:

14.07

Dimensions - Lid Open (centimeters):

158cm H x 166cm W x 79cm D

Dimensions - Lid Closed (centimeters):

120cm H x 166cm W x 74cm D

Primary cooking area (centimeters):

86 x 48

Genesis® II S-355 GBS Gas Grill

Price:

Main burners: kW/h:

11.43

Side burner: kW/h:

3.52

Dimensions - Lid Open (centimeters):

158cm H x 150cm W x 79cm D

Dimensions - Lid Closed (centimeters):

120cm H x 150cm W x 74cm D