Level Up The Heat
For Grillers
Who Deserve More
This is a carousel of various images or videos. Use Next and Previous buttons to navigate.
Whether it's the portable Weber Q gas grills that let you indulge in sky-grilling on your balcony, or our Compact Kettle charcoal grill 47cm that you share your earliest food memories with, your grilling days are taken care of for a long time when it comes to a Weber.
So why would you want to change things up and bring home a new Spirit II? Here are a couple of reasons that might just sway you to get an upgrade.
More space, more time

Just like how you would own and use different luggages for different trips (cabin size for overnight excursions, a 24-inch wheeler for long vacations), it's handy to have different grills for different types of cookouts. Our smaller Q grills are great for cosy sessions with a handful of people, but may be stressful when you're not able to grill enough in a single batch for larger crowds of 10. The last thing you want is invite everyone but have to keep them waiting, not to mention you probably don't want to spend the entire day just in front of the grill, churning batch after batch of food.
While we can't guarantee that money can buy happiness, it sure can buy you space and time to create it with those who matter most. How? With more cooking surface on the Spirit II, you won't have to spend extra time in front of the grill, waiting for one batch to be done before you get on to the next batch of food.
The new Spirit II E-310 gas grill has 3413cm2 of cooking area that lets you feed up to 10 people. Grill a whole chicken, a couple of steaks, half a dozen kebabs and a vegetable basket — all at the same time? Easy. If storage space is an issue and you need a slightly more compact grill, the two-burner Spirit II E-210 is able to fit on a balcony and still feed up to 8 friends with a generous 2903cm2 cooking surface.
This is a carousel of various images or videos. Use Next and Previous buttons to navigate.
The Spirit II E-210 and E-310 can cook for up to 8 and 10 people respectively in a single batch, while the compact Q1200 gas grill caters to a smaller group of 6 maximum.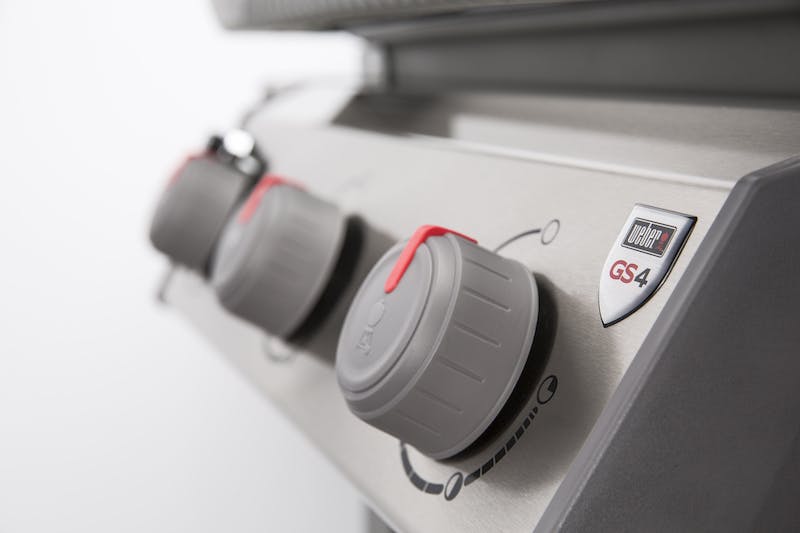 More control
Owners of smaller grills with single burner control will appreciate that the Spirit II grills comes with individual burner controls (the E-210 comes with two burners while the E-310 has three). This lets you maneuver between direct and indirect cooking easily, freeing you from one-dimensional cookouts. With these flexible controls, you have the versatility to manipulate the temperature and heat for different types of food, simultaneously.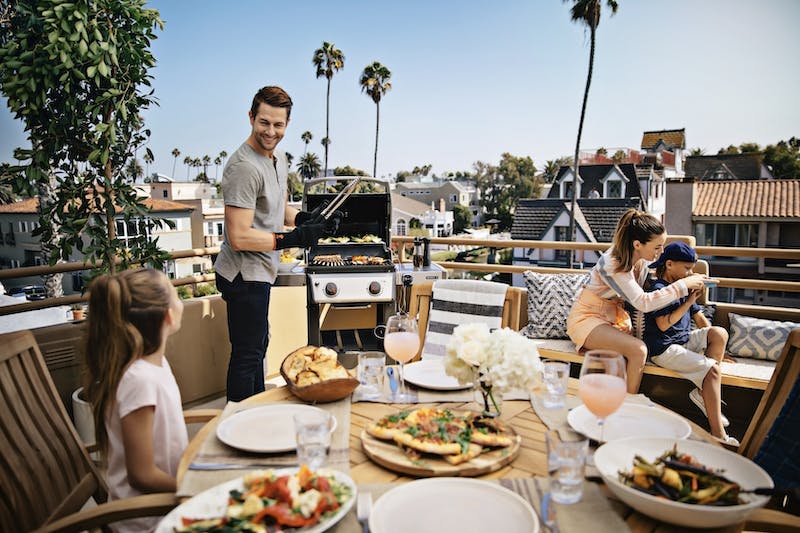 More features
Hate it when you can't get the fire started? The Spirit II comes with Infinity™ Ignition that guarantees your grill will ignite every time, and an intelligent Grease Management System for easy post-grill clean up.
Both are part of the Spirit II's GS4 grilling system, which also include Stainless-Steel Burners that provide even heat distribution for consistently grilled food, as well as Weber's famous Flavorizer® Bars that catches excess drippings and vaporizes them into delicious smokey flavor. Improved for the Spirit II, the bars now come with additional openings that allow the grill's burner tubes to 'breathe' better for heightened performance.

From Infinity™ Ignition to Stainless-Steel Burners, Flavorizer Bars to Grease Management System, all four features work hand-in-hand to provide their pitmasters with a smooth grilling experience.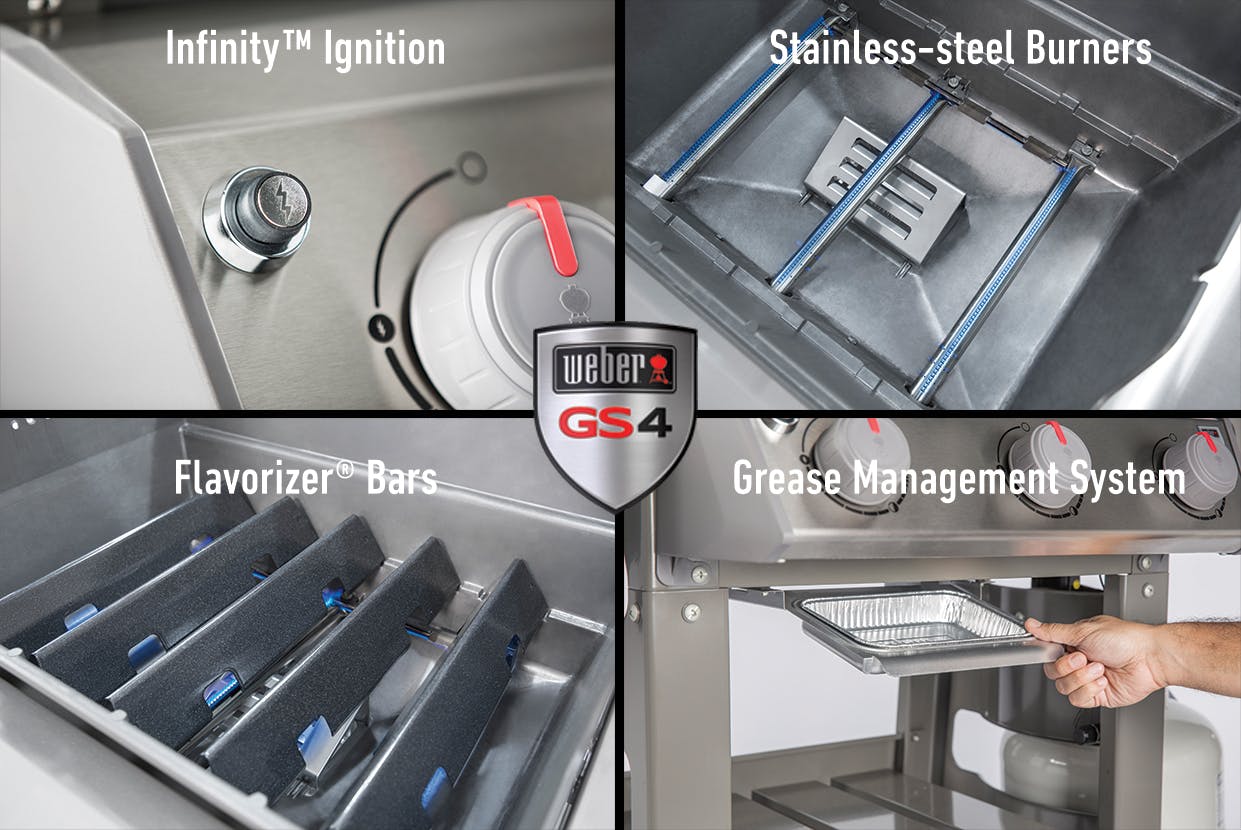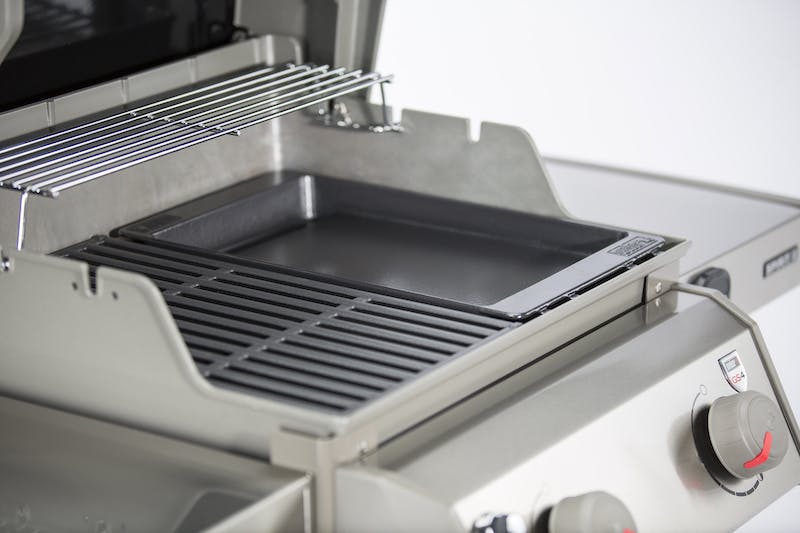 More variety
Friends of a feather might flock together, but they don't necessarily like to eat the same type of food. That's okay, because the Spirit II grills can handle any request your guests throw your way. Stir-fried noodles? Coming right up! Baked fish? Of course. Steamed vegetables? No problem. The grills are GBS-friendly (Gourmet BBQ System) so you can expand your grill repertoire and flavor horizon to feed everyone and anyone's appetite.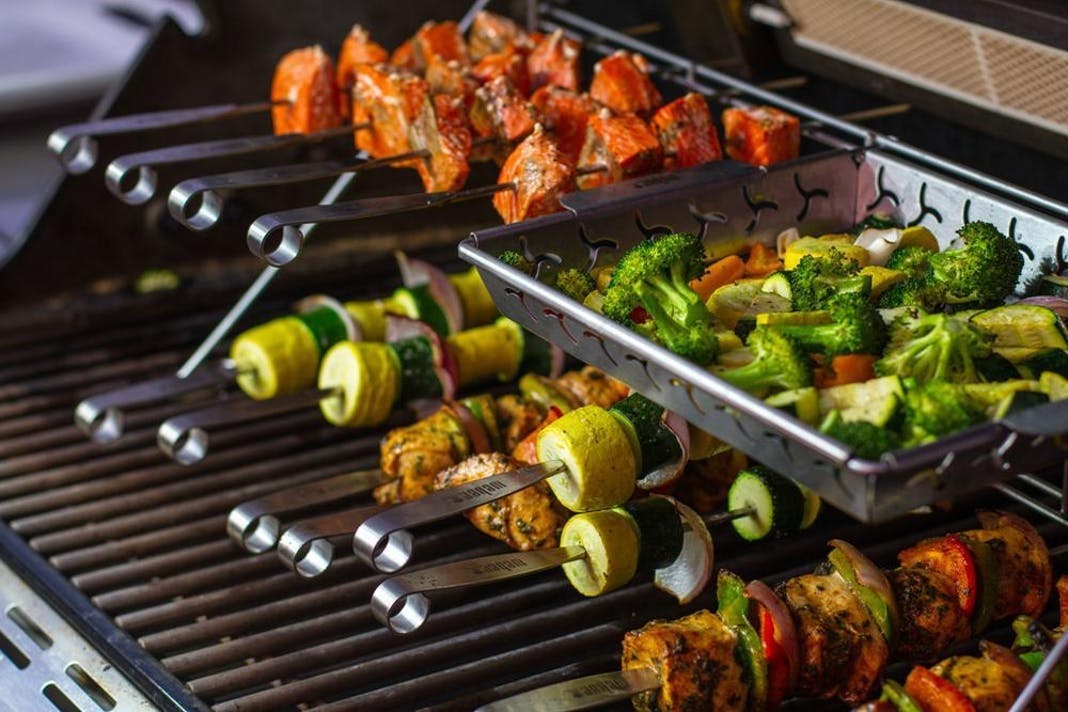 You can also create more space beyond the cooking grate by using the Elevations Tiered Grilling System. Suspended above your usual cooking space with skewers intact, you can create up to four levels of grilling for kebabs, chicken wings, vegetables or any other sides in addition to your feast. Maximized space, maximum flavor.
More peace of mind
Weber grills are in it for the long haul, and every single one comes with an extensive warranty (a 10-year guarantee is included for the Spirit II) that is a testament of the our confidence in the quality and durability of our grills. Weber grills go through stringent checks, rigorous tests and are lit before it leaves the factory to ensure that only the absolutely perfect comes into your home.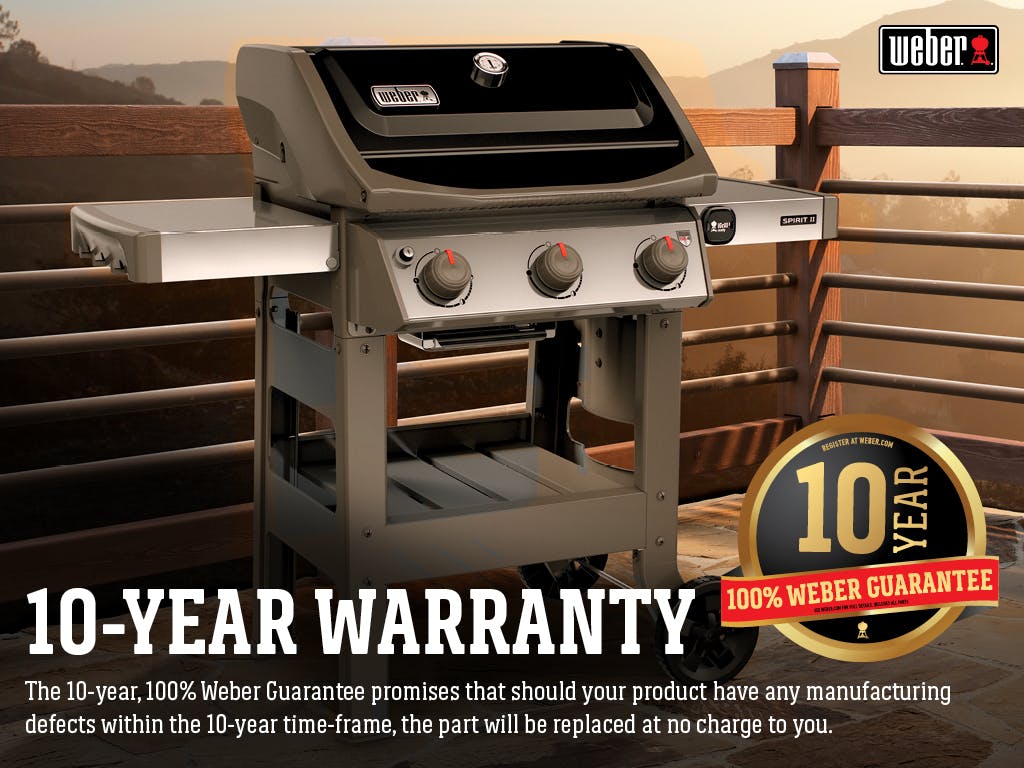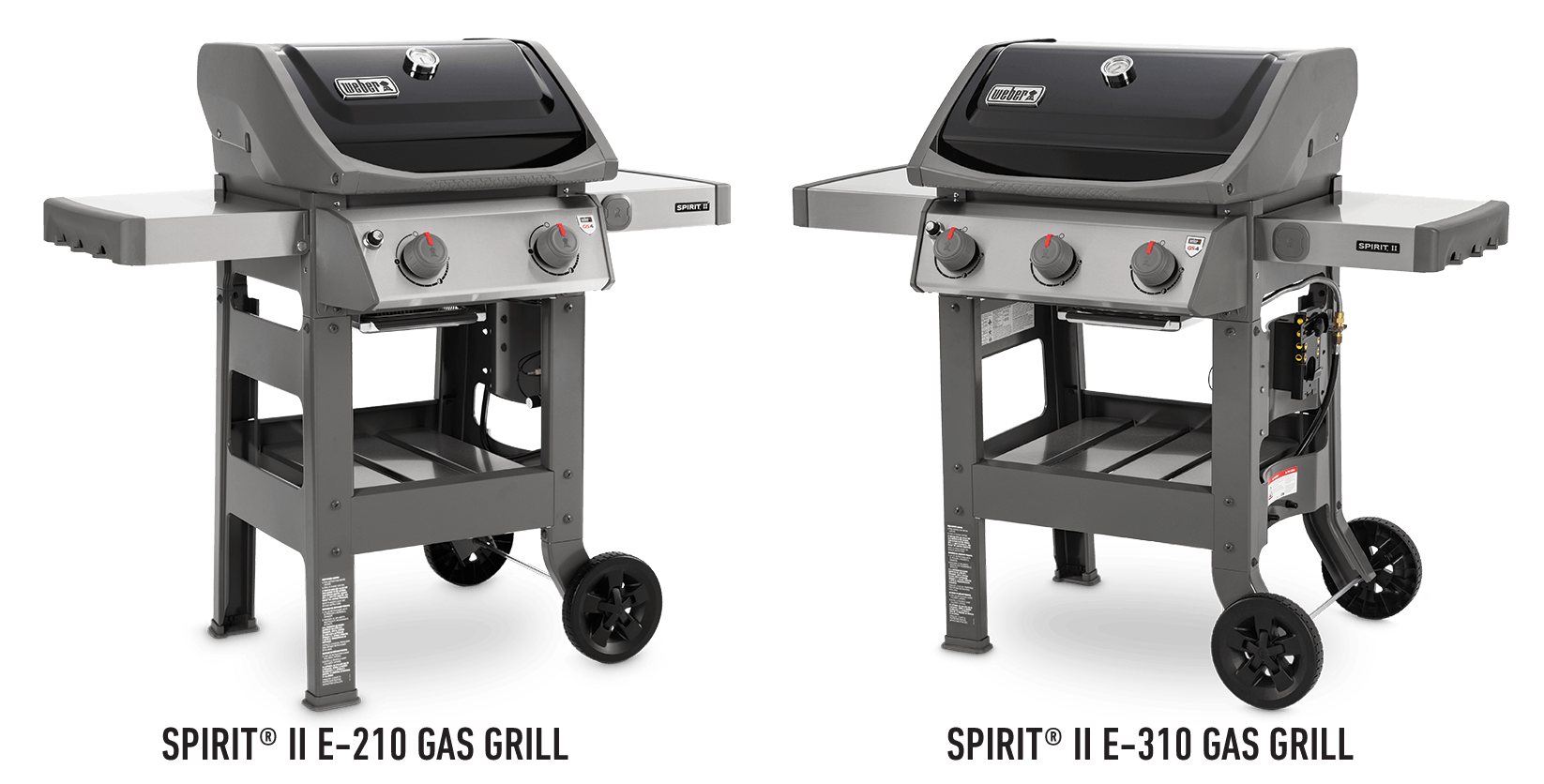 Related Posts