the

Ingredients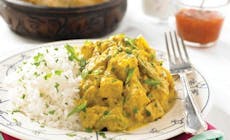 Instructions
This curry is mild and creamy and is a great alternative to a meat curries. It also works well as a side dish.
Method:
Cook the Paneer cheese first. Pre-heat the Gourmet BBQ System Wok; add oil, coriander seeds then Paneer cheese. Brown evenly then take out and set aside.
After you have cooked off the cheese add a good glug of oil to the hot wok; the wok should smoke straight away. Add the ground cloves, red chilli powder, cinnamon sticks, garam masala and dried red chillies. Stir, and then add the onion, ginger and bay. Cook until well coloured, about 1-2 minutes.
Add the yogurt, tomato puree, mango chutney, natural yogurt, chickpeas, ground almonds, then finally add the butter.
Cook through until thick. Remove the wok off of the barbecue and allow to cool and rest for 10 minutes before serving.
All of our recipes are created by our expert chefs at the Weber Grill Academy. View more inspirational recipes or book a course at the Grill Academy now.

More

recipes
You May Also Like
More

recipes
You May Also Like