the

Ingredients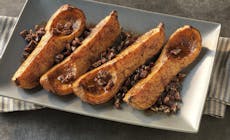 Special Equipment
Instructions
Preheat the oven to 165°C. Line a baking dish with parchment paper.

In a large bowl, whisk the egg white until it becomes frothy. Add the pecans and toss to coat well. Add brown sugar, ¼ teaspoon cinnamon, ¼ teaspoon salt and cloves. Mix until all the pecans are evenly coated. Spread the pecans in a single layer on the parchment paper and bake, until toasted and caramelized, 18 to 20 minutes, stirring several times. When cool enough to handle, roughly chop the pecans and set aside.

Preheat the barbecue for indirect cooking over medium heat (180 to 230°C).

Combine butter, remaining ½ teaspoon cinnamon, ¼ teaspoon salt and cayenne pepper in a small bowl. Place the squash pieces, flesh side up, on the cooking grate and brush with the butter, reserving the rest for brushing and serving. Grill over indirect medium heat, with the lid closed, until tender, 50 to 60 minutes, basting occasionally. Remove from barbecue and brush with remaining butter mixture. Garnish with candied pecans and a pinch of salt, to taste. Serve hot.
All of our recipes are created by our expert chefs at the Weber Grill Academy. View more inspirational recipes or book a course at the Grill Academy now.

What do you need?
Recommended Tools
What do you need?
Recommended Tools
More

recipes
You May Also Like
More

recipes
You May Also Like