the

Ingredients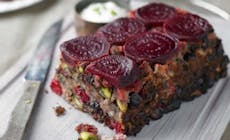 Instructions
If you're looking for a tasty vegetarian alternative to Christmas turkey, try this delicious nut roast!
 Throw in the beetroot and boil for 30 mins until tender if stabbed with a knife. Drain well and allow to cool.
Melt a knob of butter in a pan, add onions and sage and gently cook until soft. Then tip into a large mixing bowl. Chop the chestnuts into small bits, and add these to the bowl with the onions and repeat with the pistachios.
Add the breadcrumbs, nutmeg, beaten egg, parmesan, nutmeg, salt and pepper then mix well.
Tip the cranberries and sugar into a pan and simmer for about 10 mins over a high heat. The sugar will melt and cranberries will bleed in to the mixture forming a sticky jam. Allow to cool a little before adding to the nut mixture.
Grease a loaf tin or summit drip tray. Line with a long strip of baking parchment that covers the bottom and two ends of the tray.
Remove the skin then slice the beetroots into rounds about a cm thick. (Top tip: when peeling beetroot wear rubber gloves. This will prevent your hands from being coloured by the beetroot) Line the bottom of your loaf tin.
 Roast in the barbecue for 35 minutes or until the mixture has firmed up and a good dark crust has formed on top.
Slice thickly and serve with all the trimmings.
All of our recipes are created by our expert chefs at the Weber Grill Academy. View more inspirational recipes or book a course at the Grill Academy now.

More

recipes
You May Also Like
More

recipes
You May Also Like