the

Ingredients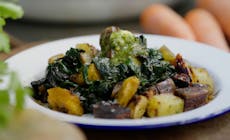 Special Equipment
Instructions
Dice the vegetables into even sizes, sprinkle salt, ground garlic, cumin seeds & ground coriander across them. Lastly drizzle oil over the vegetables & mix it all together until its coats evenly. Any vegetables will work here, so make sure you use up any in your fridge that need to be cooked.

Set the Lumin Electric barbecue up on the Steam setting. Then pour the vegetables in to the steam tray & close the lid. Let them steam for 10 - 15mins until tender.

Once the vegetables are tender, transfer to a grill basket and place directly over heat & cook until caramelised. Add oil, if required.

Steam the spinach in the steam tray until tender. Then add & mix into the vegetables.

Melt 2 tablespoons of the Chilli Spiked Butter & toss through your vegetables until evenly coated.

Season to taste & serve warm, Enjoy!

To make the Chilli Spiked Butter

Add all the chilli butter ingredients, apart from the butter, to a blender and blitz to a smooth paste.

Stir the spice paste into the softened butter in a bowl until thoroughly mixed.

Transfer the butter to a ramekin or roll it into a sausage shape inside a piece of cling film (plastic wrap) and twist the ends to seal. Refrigerate until needed.
All of our recipes are created by our expert chefs at the Weber Grill Academy. View more inspirational recipes or book a course at the Grill Academy now.

More

recipes
You May Also Like
More

recipes
You May Also Like