the

Ingredients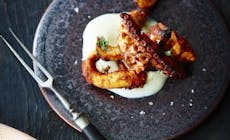 Instructions
Fancy something different from your barbecue? Try out this grilled octopus recipe!
In the kitchen:
Rub the octopus tentacles with some oil and sprinkle with a bit of white pepper. 
Then prepare the potatoes for the Parmentier purée. Wash the potatoes and wrap in aluminium foil with salt and a bit of olive oil.
At the barbecue:
Prepare the barbecue for direct heat – approx. 260°C. If using a charcoal barbecue you need around half a chimney starter of lit briquettes. 
Place the potatoes on the barbecue and grill them for 10 minutes on each side. 
Now re-arrange so that the barbecue is set up for indirect heat. Then leave the potatoes on the grill at indirect heat for another 30 minutes. 
Remove the potatoes from the grate and remove the foil. Pass the potatoes through a food mill, adding the milk little by little together with margarine, which has been warmed and melted into the milk. You can also use a fork to mash the potatoes. Be sure to mash them while they are still hot as it is easier. Never use an electric grinder as it would not give you the desired texture. The purée should have a creamy consistency. Add salt and pepper to taste. Set the purée aside once it is ready. 
Soak the octopus tentacles in a bit of oil. Then arrange it on the barbecue at direct heat for about a few minutes on both sides, until it is golden. 
To serve, place the Parmentier purée with the octopus on top. Sprinkle over a bit of smoked paprika and salt flakes with a few drops of olive oil.
All of our recipes are created by our expert chefs at the Weber Grill Academy. View more inspirational recipes or book a course at the Grill Academy now.

More

recipes
You May Also Like
More

recipes
You May Also Like