the

Ingredients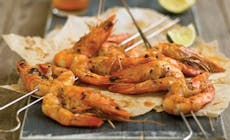 Instructions
This glazed grilled shrimp with a garlic and paprika mop makes for a delicious, light bite.
Method
For the Prawns:
To prepare the prawns remove the shell of the meaty tail but being careful to leave the head and tail tip on for presentation.
Devein the prawn by getting a small paring knife scoring the prawn about ½ cm down the length of its tail and remove the black vein.
Pre-heat your grill to 250◦c direct and place the prawns on to your grill.
Throughout the cooking process you need to mop your prawns with your warm garlic mop every two minutes rotating the prawn each time you mop until the mops has been used.
Cook for 8 minutes until cooked through.
For the Mop:
Using a pestle and mortar bind all your dry ingredients and grind into a fine rub and then and add all of the ingredients including the rub into a Weber drip tray.
Bring your mop to a simmer over a high direct heat for 10 minutes and then your sauce is ready. (Always baste the food you are cooking with a warm mop)
All of our recipes are created by our expert chefs at the Weber Grill Academy. View more inspirational recipes or book a course at the Grill Academy now.

More

recipes
You May Also Like
More

recipes
You May Also Like